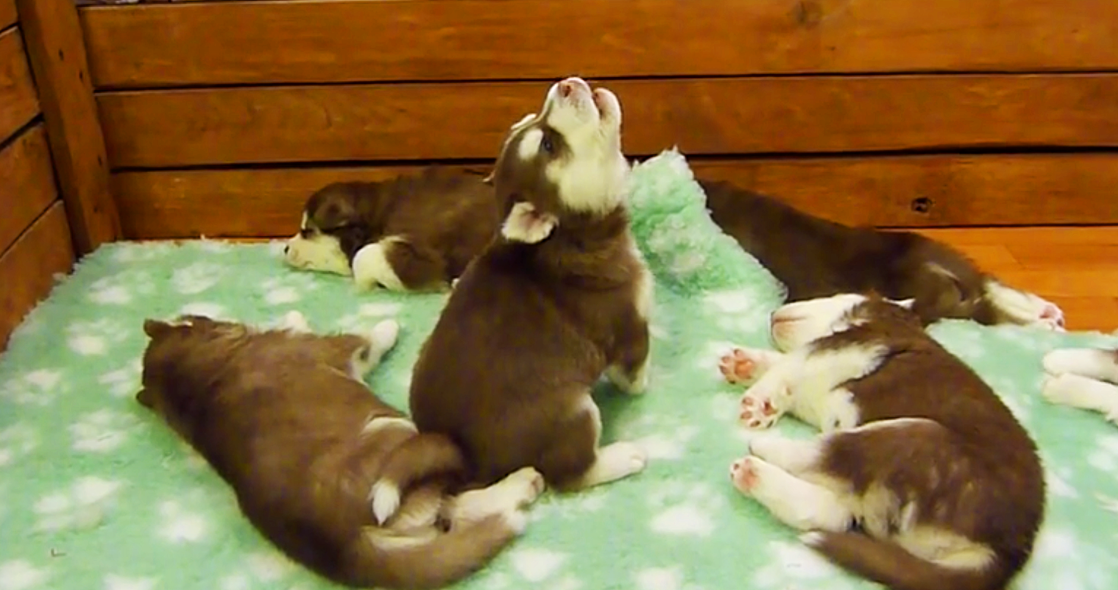 image via – rumble.com
This adorable Husky puppy is only just beginning to find his voice and yet it already sounds incredibly sweet! He may still have a lot of practice and work ahead of him before he fine tunes his vocal abilities, but he'll get there in time. After all, he's so young and has a whole adventurous, fun-filled life ahead of him!
The unusual howling noises that the little chubby gray and white puppy makes don't appear to bother his sleeping siblings. The group of puppies must be super tired because they are passed out haphazardly all around the noisy little fella. They are so dead asleep that they seem oblivious to the unique, gurgle-sounding howls and barely even flinch, let alone move at all whatsoever! Check them out, you have to see them all because it's just too cute!
In terms of noisiness, most Siberian Huskies bark a lot less and are not as loud compared to many other dog breeds. However, they do love to howl, especially when they're around other Husky dogs. Oftentimes when one begins to howl the others will join in, this is known as a community howl and it's very similar to what wolf packs do and sound like. In fact, dogs that howl can all thank wolves for the ability to do so because it is a primitive trait that got passed on to domestic dogs long, long ago. These days many Huskies only howl in the company of other fellow Huskies, but some will also do it when they're bored, playing, interacting with people, or in response to sirens and other high pitched noises.
In light of all that, the little puppy in this clip may have been trying to start up a community howl because he was bored. In the end, we'll never know what compelled him to howl but who cares because he sounds downright adorable!
Please SHARE This With Family and Friends 🙂