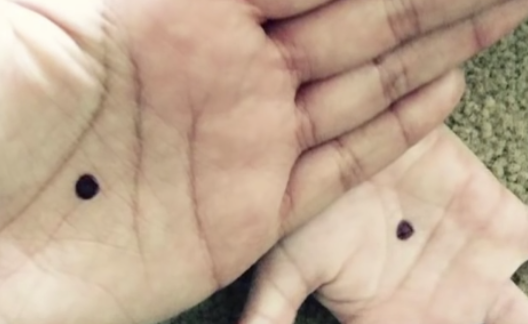 The black dot campaign was started with the hope of drawing some much needed attention to victims of domestic violence. The whole campaign revolves around the act of drawing a black dot on the palm of ones hand, which signifies that the individual is a victim of domestic violence and wants or needs help.
Any bystander who happens to spot the dot can then try to help or assist them. All too often victims of domestic violence suffer in silence and the idea behind the dot was that it gave them a way to reach out for help, while minimizing the risks for further violence and danger.
The campaign has been met with a mixed response of both praise and criticism. However, in the overall scheme of things, the idea is a good one. Any attention brought about or light shed on the plight of victims is a step in the right direction.
When it comes to the issue of domestic violence the statistics are grim. According to the National Coalition Against Domestic Violence (NCADV), one in 3 women and 1 in 4 men have been the victim of some form of physical violence by a partner in their lifetime. In the US alone every nine seconds a woman is beaten or assaulted, an average of 20 people per minute are physically abused by a partner, and every year that adds up to more than 10 million men and women being abused.
Oftentimes it is incredibly hard for victims to break the cycle of violence. That is because their abusers tend to watch their every move, making reaching out for help nearly impossible. Abusers also exert various forms of control over victims that are beyond physical, and often use mental, emotional, and financial forms of it to gain and maintain control.
When it comes to speaking up, many victims struggle to find their voice and be heard. Which is why the black dot campaign exists in the first place. Victims need all the help and support they can get, and people need to be more aware of their silent plight.
Organizers behind the campaign say that within 24 hours of its launch 6,000 people were reached and 6 women were helped. It has gone on to reach many millions more people and help countless other men, women, and in effect, children as well. If you ever see a person who has a black dot drawn on the palm of their hand, call the police immediately, because it's a silent signal for help and that person is saying they are in trouble.
**Word of caution- Much of the criticism surrounding the black dot campaign stems from the fact that people are drawing the dots on their palms when they are not in any real, immediate danger. Many survivors of domestic violence have drawn on dots and uploaded pictures to share on social media as a way of showing their support and solidarity.
However, this is missing the original point of the idea and instead of drawing a dot supporters should instead write "Say no to domestic violence" on their hands to avoid confusion.
Please Share This Story With Family and Friends