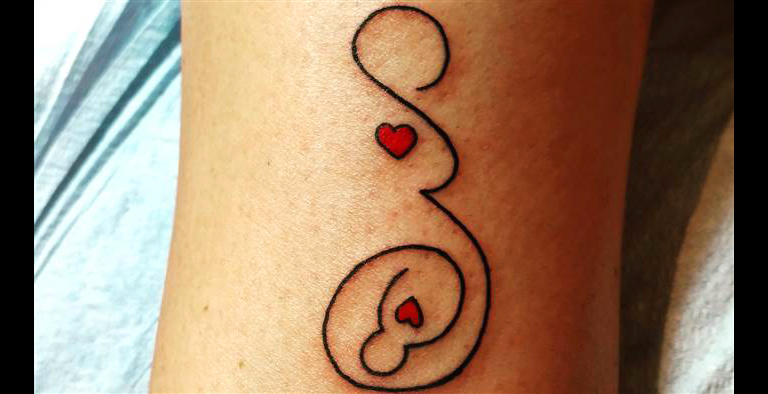 image via – youtube.com
Often when women miscarry, people will be supportive briefly when it occurs early in a pregnancy, and then say something like "it wasn't meant to be" or "you'll have another soon".  They mean well, but often don't realize the impact of the loss on the woman and the couple.  Miscarriage can cause a profound and lasting sense of loss that can't just be brushed off.
Joan Bremer suffered the tragedy of losing her child to miscarriage, and felt a need to memorialize both the child and her experience in a symbolic and meaningful tattoo. You will hear her story in the video you are about to watch below.
The tattoo design uses a solid black curved line that forms the silhouette of the pregnant mother to the child within her womb; the line connects the hearts of mother and child.  The simplicity of the design made it a powerful symbol, whose meaning captured the hearts of women everywhere.  So many women have suffered in isolation as a result of the loneliness of the loss of miscarriage.  Bremer's tattoo served as a unifying agent to connect women who needed the love and support of other women who had suffered similarly.  If you see a woman with a tattoo like the one in the upcoming footage, and you have been through the tragedy of miscarriage, you will know that there is another person who has been touched by this loss, that so often is dismissed.
Please SHARE This With Family and Friends