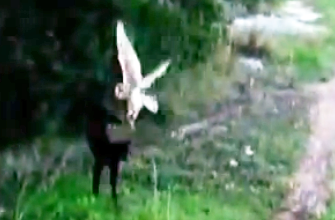 image via – youtube.com
So here's an unlikely duo who become friends.  Fum, a cute little black cat and Gebra, a barn owl, often a bird of prey.  Set to a great Portuguese tune, this video is one of the most delightful, entertaining ones I've stumbled upon in a while. I don't think I have ever seen an interspecies friendship that compliments each other so much.
Owls and cats as strange as it may sound just seem like they belong together! They meet and check each other out in many different ways.  Both are skeptical of the other, but as time goes on they begin to romp through the countryside. They are just like two kids playing outside!
Their unlimited playground gives them the opportunity to enjoy the possibilities of their species in the most fascinating ways. Nature again never ceases to amaze me.
I can see why the video has had nearly  million views on YouTube.  Watching these two enjoy a "playdate" without boundaries, with such clever antics, is truly hilarious.  It's so amazing we can all enjoy this amazing friendship! Enjoy their spontaneity and pass it on to all the animal lovers you know!
You are in for a real treat with this one! Enjoy!
Please SHARE With Family and Friends