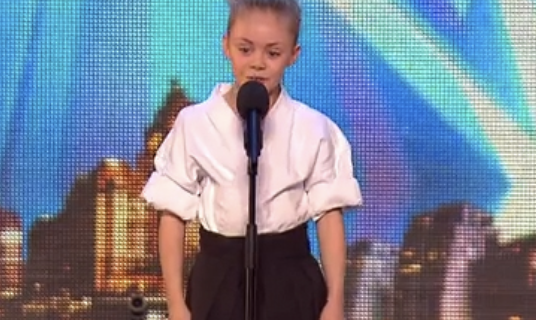 image via – youtube.com
Nine-year old Jesse Jane McPharland steps onto the Britain's Got Talent stage. This sweet, little blond girl introduces herself with an Irish brogue. Telling the judge's she is there with her "daddy", Gary, 36, eliciting oohs and aahs from the judges and audience, as she exudes this delightful innocence.
Her "mummy's at home looking after [her] two younger sisters", while her dad has been taught how to do her hair for her performances. She briefly goes offstage to pick up her sword, and as the music begins, jaws drop as Jesse begins to perform back flips, armless cartwheels and other stunts all while wielding her sword.
This demure sweetheart has turned into the Karate Kid and then some. Jesse's been practicing martial arts since the age of three, after she realized ballet wasn't her thing. She only recently added sword work to her skills in Tae Kwon Do, kung fu and kickboxing. Her performance and transformation from a sweet, demure little Irish girl into this fierce "warrior" is stunning.
As Simon Cowell joked, he could use her as his body guard! Watch this video and enjoy the mind-boggling talent and metamorphosis of little Jesse.
Let us know what you think of her performance!
Please SHARE With Family and Friends