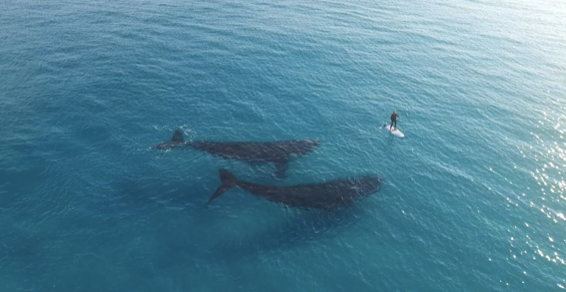 The unending violence in our world, man's inhumanity to man, just implodes our psyches on a day-to-day basis.  Some days are worse than others as people are slaughtered around our universe, and we grow more and more numb with each act of violence.  Simple acts of kindness, nature, and our ability to love one another selflessly, grow more distant.
All of this came to mind as I listened to the beautiful melody and timeless words of John Lennon's "Imagine" that accompanies this magnificent footage.  Above the waters of Esperance in Western Australia, Jamien Hudson captured a moment in time from his drone, that is beyond captivating.
A paddle boarder, Dave Price, was peacefully gliding along when he came upon two, huge Southern Right Whales.  He paddled within the same vicinity, never disturbing them; man and nature at their finest.  The disparity in their size from the drone vantage point is dramatic.
John Lennon's words set to this astounding footage is literally breathtaking.  I have watched it over and over before writing this piece.  It gave me a spiritual uplift that was much needed… a moment to breathe.  I hope that it will do the same for you.
Please SHARE This With Your Friends and Family