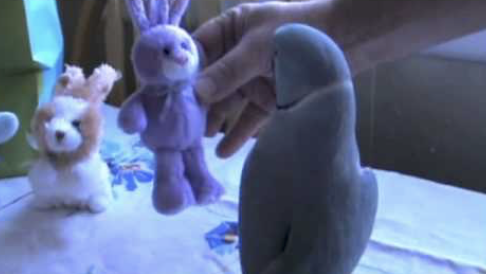 When Marnie, a Blue Indian Ringneck Parrot, celebrated his fifth birthday, his mother threw him a festive party to remember. She went all out and whipped up a bunch of tasty snacks for the big day, including yummy looking waffles topped with strawberries and cream. She also invited all of Marnie's fellow bird friends to the birthday bash and even the family dog came to say hello and celebrate. The adorable parrot was absolutely floored by the whole shebang and his reaction speaks volumes about what a special, kind, sweet and loving bird he grew to be!
The best part of the clip is when Marnie gets his birthday presents. His mom gave him a brand new stuffed bunny rabbit and as soon as he sees the plushy, it's love at first sight. He leans in to give the bunny a kiss and then tells it "I love you," and in the process melts our hearts. His adorable antics don't stop there and neither do the presents because he received a few more stuffed animals. Each time he's given a new plushy he politely says "thank you," followed by "gimme kiss" or "whatcha doin.'"
According to his mom, those are a few of the phrases he knows in addition to "you're so cute," "peek-a-boo," "Whee!," "bye-bye," "that good?," "quack quack," and "yuck, yuck, yuck." She says that Marnie is quite a lover and is always asking for kisses, which is why she describes him as a "polite Casanova." His love and affection for stuffed bunnies began when he was adopted around Easter time, which was also when his mom received a little rabbit that said "some bunny loves you" whenever it was squeezed. Over time and with the help of the talking bunny, Marnie's parents taught him how to speak and the rest is history! Check him out! You can't help but smile and fall in love with what an awesome parrot Marnie's growing up to be.
Please Share This With Family and Friends Who Need a Smile Today 🙂