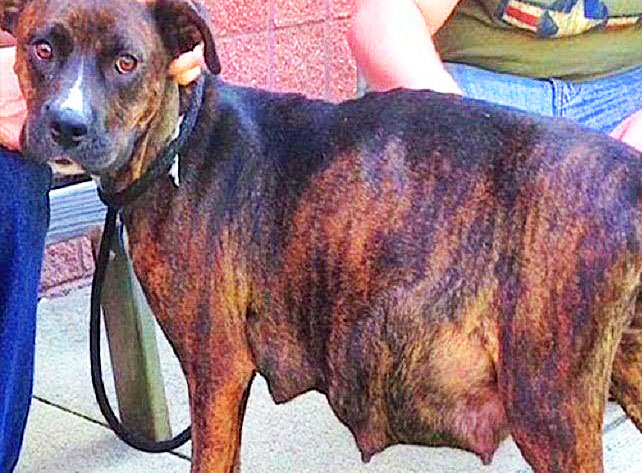 image via – youtube.com
Rescuing and fostering animals isn't easy, but for one couple it's truly a labor of love.  Over the years Chris and Mariesa have opened their hearts and home to many dogs in need. They believe that their shared passion has only made them grow closer together and since there's always animals who need rescuing, they take in new dogs whenever they can.  
The couple had seen that a pregnant pit bull named Storie was up for adoption at a local animal shelter and they immediately knew that they had to rescue her.  Shelters are incredibly stressful environments for animals with all the strange smells, noises, people and other animals around. For a pregnant dog the stress is amplified and that can mean bad news for both mom and her puppies.  Chris and Mariesa knew they had to take Storie in and they headed straight to the shelter to pick her up.
When they got their they talked to shelter employees who told them that Storie should have given birth already and that perhaps she hadn't because she was stressed.  The couple brought the heavily pregnant dog straight to the vet to have her checked and that's when they discovered something shocking. An ultrasound revealed that Storie was carrying 12 puppies!  
They were amazed and then the realization set in that they'd have to care for all the newborns and mother, so they got right down to business.  They set up a cozy place for Storie to give birth out of a kiddie pool filled with blankets in a kennel outside their house and the heavily pregnant dog settled right in.  
Thinking that they still had a couple of days to go before their new dog went into labor, the couple were shocked when just 12 hours after she went home with them, she gave birth to her first puppy.  Storie had gone into labor because she finally felt safe and comfortable enough! Incredibly, all 12 puppies were born healthy soon afterwards and within 18 hours of being in their new home.  
Chris and Mariesa were overjoyed that they'd been able to help Storie but now they had 13 new dogs to care for on top of the other ones they already had.  It wasn't before long that the puppies became a handful, they loved to play, run around the house, and fight with each other. Each one had its own personality and quirks which made it easy to tell them apart and name them.  Even though they loved all they puppies, they knew that everyone would be better off in new homes.
Thankfully, Pibbles and More Animal Rescue helped them find forever homes for all twelve puppies.  People had heard about Storie and her babies and interest was high, the rescue group received numerous adoption applications.  Even Storie ended up getting a new forever home with Chris and Mariesa's friend who offered to take her in.
It ended up working out for the best because the couple still get to visit and see her all the time, while being able to help other dogs since the space is freed up.  It's amazing what a little love and understanding can do, and for one pit bull and her 12 puppies, it made all the difference in the world.
Watch the video below for the full story:
Please SHARE This With Family and Friends