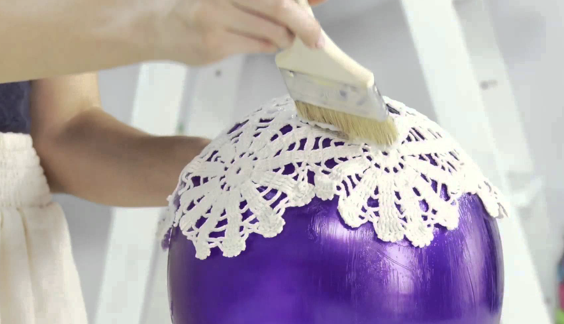 I remember my grandmother having doilies on the armrests of her chairs and couches back in the day.  I must say that they always had an old-fashioned connotation in my mind.  But as we see over and over, through the incredible creations that we are privy to on the internet, old things can be used in new ways.
The DIY video you are about to watch below, introduces a way to use doilies in a modern romantic way.  Sarah, from Socraftastic, shows us how easy it is to make a lace -patterned lantern to create a beautiful ambiance in any room in your home.
Giving some romance to lighting can turn an ordinary room into something special. To construct this DOILY LANTERN you will need Doilies, a balloon, petroleum jelly, a mixture of Elmer's glue, water and flour, and a light kit.
Watch how Sarah blows up the balloon, rubs the balloon with petroleum jelly, for initial adherence for covering the ballon with the doilies, and then see how she uses the glue mixture to paint on the doilies.  When all is dry, she pops the balloon and inserts the light bulb and VOILA!  With a flip of the switch you have a beautiful doily lantern.
Watch the tutorial to see this creation, that is nothing short of gorgeous.
Please Share This With Family and Friends 🙂