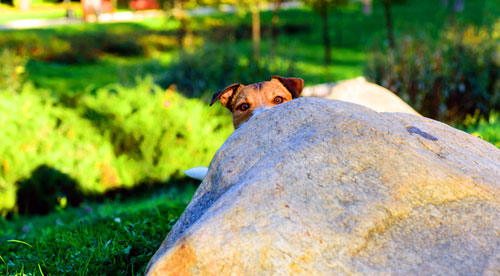 There is more than what initially meets the eye to this simple black and white drawing of an old man wearing a hat. The illustration was created by Valentine Dubinin, a cartoonist and animator from Russia who works as a freelance artist. But before reading any further, take a good look at it and see if you are able to spot the dog that's hidden within it!
Were you able to find the dog, or can you only see the old man? After staring at the picture for a few seconds and reading this, most people are able to make out both the man and the dog. If you still can't decipher the dog, keep looking because it's in there somewhere!
These images are called ambiguous figures, which are a type of optical illusion, and some people also refer to them as 'illusory figures.' Ambiguous images are pictures that take advantage of how we perceive and interpret things visually. They do so in such a way that the figure presented to us, like the old man, can be viewed multiple ways because they end up producing multiple images, i.e. the dog, each of which are correct.
It turns out that images like this one have intrigued researchers from across a number of different fields for well over the past hundred years. Scientists and psychologists cannot figure out how exactly they work, what part of our brain holds the key to understanding them, or why people can even switch between the two images in the first place. Some people cannot do the switch at all, they only see one thing or the other, which just adds more to the mystery surrounding them.
Pass this fun image on with friends and family and see if they are able to spot the hidden dog or not. If you're interested in illusory figures and pictures like this one, there are many more out there for you to explore, so check them out and enjoy!
Please SHARE This With Family and Friends To See If They Can Spot Hidden Dog 🙂