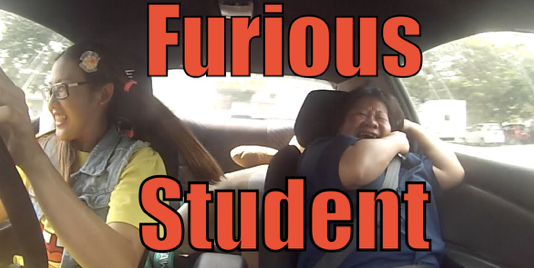 image via –  youtube.com
The first day at a new job is often both intimidating and exciting. New hires go in with an idea of what to expect but sometimes end up finding out that the job calls for much more than they bargained for. This was the case when a driving school decided to prank their new employees the first day on the job.
They thought it would be a funny lighthearted way to show the rookies that working there is not about being so serious all the time and to relax, lighten up, and enjoy the ride. Which is hard to do when thrown into this crazy unexpected situation.  The prank starts off with the instructors getting into a souped up car to give a young innocent looking girl what they think is a driving lesson.
She tells them it is her brother's car and begins to drive quite horribly. She messes up shifting, takes wrong turns and appears to not know what she is doing. The instructors reactions range from understanding and helpful to mildly annoyed at this. When they try to end the lesson she asks for one more chance to get it right.
That is when her slow and atrocious driving turns into a high octane, masterful performance. The girl cranks through gears and sends the car into spins, drifting around a parking lot and coming dangerously close to nearby objects and people. She is an expert and in complete control of the car, but the instructors think she is just a crazy bad driver who may end up killing them.
Their reactions are a combination of hysterical and complete surprise to screaming the whole while. The joke truly worked when you see the looks on their faces! When the car is finally parked in a dramatic sideways sweeping arc the new employees show signs of complete relief and one even jumps out and takes off away from the car.
In the end it is revealed that this was all a trick and the girl was actually a professional racing champion and well known drifter from Malaysia named Leona Chin. She has won multiple championship titles in different divisions all across the world and makes a really convincing actress as well.
Hopefully no one quit after this stunt and they took it all in stride. All in all it was a great way to welcome new people to their team! Enjoy this video is so funny! 🙂
Please Share With Family and Friends