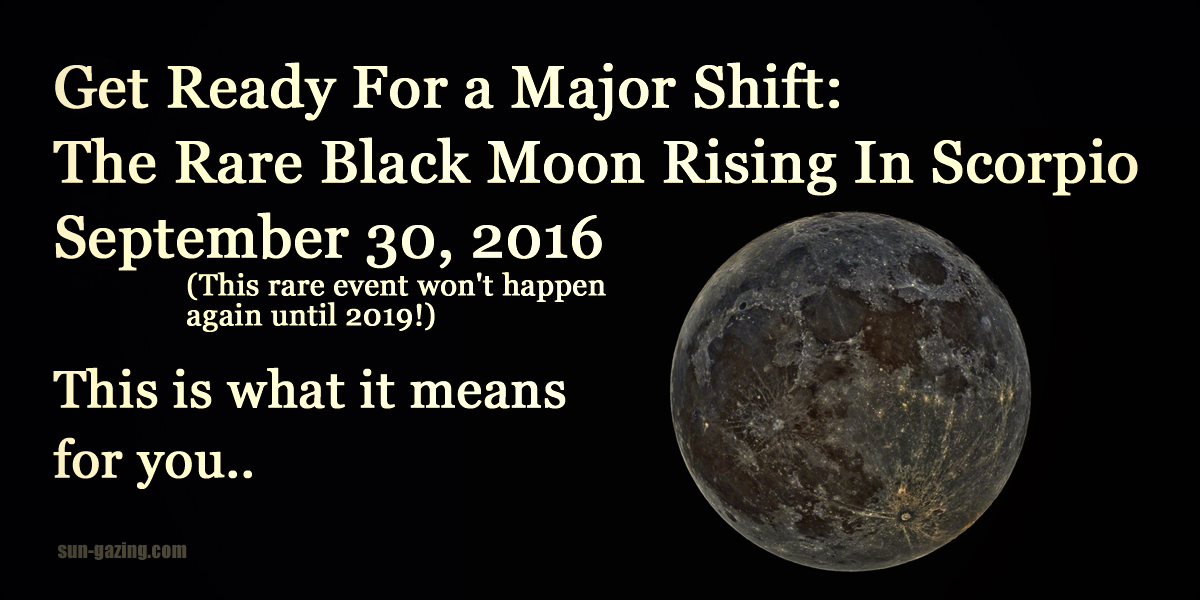 image via – shutterstock.com
A special and rare lunar event will be taking place this weekend and right along with it a major shift will also be occurring. On Friday night, September 30th, a new moon will rise in the sky, the second one to fall in September as the last one occurred back on the first of the month. Whenever this happens, two new moons within one single month, the second one is called a Black Moon.
Lunar events like Black Moons are quite rare. In fact, saying that they happen "once in a blue moon" wouldn't be wrong! They are very similar to Blue Moons, which is when two full moons occur within one month, and so they are polar opposites in terms of moon phases. Furthermore, both Black and Blue Moons occur about once every 32 months or so, meaning years may pass before the next one comes along.
Since new moons are essentially the first phase of the moon and are not visible, you won't be able to see the Black Moon. Nevertheless it will be up there in the heavens exerting a powerful force upon our planet and our lives. The cosmic shift in energy that the Black Moon ushers in will end up affecting us all in one way or another. Astrologically speaking, new moons are times for new beginnings and starting over. They also offer us the perfect time to tap into our natural instincts and so during new moons you should always go with what your gut is telling you. However, Black Moons differ from regular new moons in that they magnify and intensify all of the energies, emotions, changes, and feelings that are swirling about in your life. This Black Moon's burst of energy may affect you in any or all of the following ways:
In the days both preceding and following the new moon there will be opportunities made available to many of us which will be beneficial in nature. If you seize these open possibilities the impact from them will result in peacefulness and understanding. You will gain clarity and find a new sense of hope or meaning within your life that will drive you forward and, in a sense, re-awaken you to further opportunities.
Some people will see a spike in their creativity. They will be inspired by the changes in the energies all around them and will be able to tap into it unconsciously and use it to their advantage. Regardless of what you are involved in, whether you're a writer, painter, designer, etc, this will be a time when things start to come together. New directions will be taken and ideas will flow together.
Some of us will finally be able to move on and forward in our lives. If you have been stuck in a rut lately or bogged down in some type of way, the Black Moon energy will help you conquer your fears or whatever it is that may be holding you back. This is the ideal time to work through your troubles and issues because the clarity that accompanies this new moon shift is focused on starting over and new beginnings.
For some people, the Black Moon will make them feel overwhelmed, but they need not feel this way. If you start to feel weak or insecure you can reverse this negativity by immediately switching gears. Readjust your thinking as soon as you notice those feelings creeping up on you and the accompanying confusion will clear out.
Overall, the vibrational shift in energy marked by the September Black Moon will be positive. If you go with the flow and connect with this energy it will be greatly beneficial in more ways than one, as it will help you to find balance and awareness in your life.
Spread This Message, So Everyone Can Enjoy!