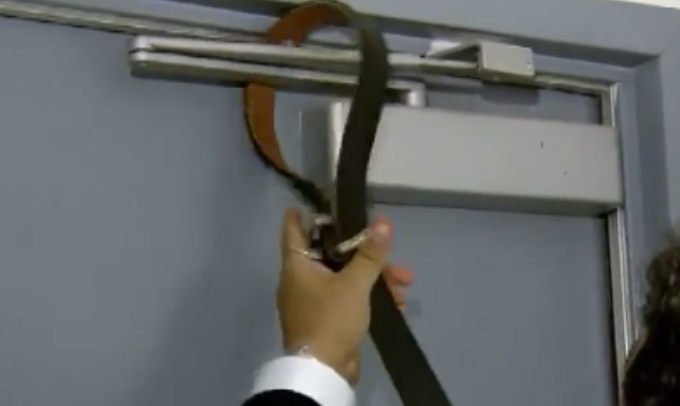 image via – youtube.com
It may seem incomprehensible that the dangers of terroristic attacks in the office place, such as what happened in San Bernardino, California at a holiday party, may become part of our "new normal".  Heinous attacks like this have occurred in our schools and movie theaters as well.
Our heightened fear of the unexpected terrorist attack is not unrealistic.  As we have always participated in fire drills as a precautionary measure, it seems both logical and prudent, to have exercises to train people how to best survive a terrorist attack domestically.
As many of us do not like the idea of people being armed in the workplace or schools, what tips or tricks can be taught and practiced to help train ordinary citizens going about their day, to defend themselves?  In the video you are about to watch below, safety expert, Bill Stanton, illustrates several ways to protect yourself in the workplace.
He shows us how to place a belt on a door hinge to prevent the door from opening, in addition to using barricades and other utensils commonly found that will help to stop the attack. The point he makes is that you can't stay frozen and passive under such circumstances.
Acting as a group to fight off the attack may very well mean the difference between life and death.  People have good reason to be scared, in the face of the multiple mass shootings that we awake to on a regular basis.  Fear is paralyzing; it is far better to be empowered with actions that can be taken, to give people a fighting chance, if the unthinkable should occur.
Watch the video below for more detailed information.
Please SHARE This With Your Family and Friends