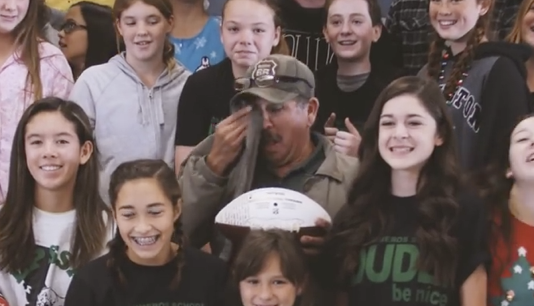 image via – youtube.com
Rocky has been a janitor at Los Primeros School in Camarillo, California for 37 years. He is the kind of man who has the special gift, of spreading his own happiness, gratitude and joy of living to all those who are fortunate enough to know him.
For generations he has brightened student's days with his genuine caring and happiness at seeing them each day. The current students at this school just adore him, and wanted to surprise him with a showing of their gratitude for the sunshine he brings into their school each day!
The video you are about to watch below, came about as a result of the kids teaming up with a clothing company called "Dude Be Nice". The goal of their company is to " [encourage] inclusiveness, kindness and gratitude."
Rocky is called by walkie talkie to the school auditorium by the principal, who told him a child had gotten sick during the assembly, and that they needed his assistance cleaning up. When he enters the auditorium the kids start chanting "We Love Rocky!", and he can't contain his emotions.
Other surprises ensue, in this heartwarming video posted on the YouTube channel, "Dude Be Nice". This will make your day!
Watch the video below:
Please SHARE this amazing moment with family and friends 🙂