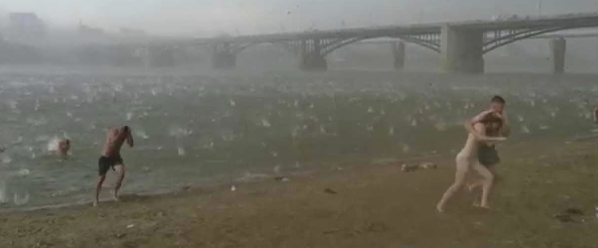 We have a saying in English when things in life go wrong that goes: "It was no day at the beach!" A day at the beach takes you out of the hassles and stress of every day life, and brings you a day of tranquility of water, sun and a kind of otherworldly peace. Before making a plan for a beach day we check the weather forecast to be sure that no rain is predicted. We get all our beach gear together and ride off with high hopes for a frolicking day.
Such was the day that was sunny and beautiful on a beach in Russia, as you will see in the video that you are about to watch below. Riding the waves and enjoying the sunshine, the relaxed people are suddenly startled by "Mother Nature's" new plans! As we all know weather is capable of changing suddenly, without forewarning, when an unexpected front appears.
What happens in the video below, seems to be sudden rain, as people scurry for their belongings laughing at the unexpected change. However, the mood becomes more dire as they realize that the skies have opened up for something far worse than a rain shower in the middle of a sunny day. People quickly go from laughing to sheer terror as the severity of the weather is anything but funny! I can honestly say that I've never seen anything quite like this!!
Please Share this wild day at the beach with your family and friends!