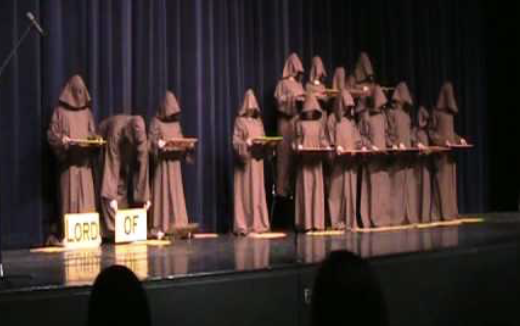 image via – youtube.com
In early to mid December many schools, churches, and other centers of education across the country put on their annual Christmas programs. Groups of children and adults who have been practicing and rehearsing all sorts of songs, skits, and plays take center stage and perform for their communities.
The holiday themed programs center around various aspects of the different holiday celebrations, from Hanukkah and Kwanzaa to Christmas and beyond. Many of them stick with traditional time honored editions of well known classics, such as Charles Dickens A Christmas Carol. In contrast, others choose to offer more unique and uncommon takes on the Christmas season.
One group of high school students decided to take the road less traveled for their annual Christmas program and it turned out to be a hit with the crowd, and even the world. The all students hail from Port Orchard, Washington where they are part of the South Kitsap High School's vocal music program.
They imagined how monks, who had chose to take and live their lives under a vow of silence, would put on a Christmas concert. The answer they dreamed up is shown in this video of their performance and it's quite creative, amusing, and hilarious all at once.
In it, they re-create the beautiful song "Halleluia" without even uttering a single word. Instead, they line up across the stage dressed in plain robes and hold up cards with the lyrics on them, flashing them in time with the instrumental music. They really thought outside the box and ended up putting on the performance of a lifetime!
The video has racked up millions of views ever since it was posted online. It's stuck a chord with many who view it as a refreshing take on the boring old Christmas songs and plays that get recycled year after year. Groups of people from all around the world have copied it and some have added their own twists to the skit as well, but this one is the original.
Let us know what you think of this performance in the video below! Enjoy!
Please Share This With Your Family and Friends 🙂