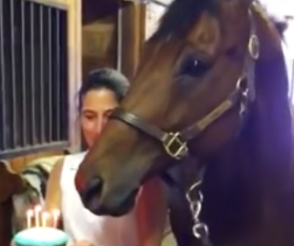 image via – rumble.com
Horses have huge personalities and are full of surprises. If you've ever spent time around them then you know how they're always finding ways to make us laugh and love them even more. Some horses even take on and adopt human-like traits. There are ones who have been caught doing things like talking, singing, and dancing along to music and more than a few have been observed blowing bubbles in the water to pass the time!
JD the horse is no exception to the rule, he's just full of hilarious surprises. He's always interested in what's going on around him and sometimes he reacts to things in totally unexpected ways. Being the social and affable horse that he is, he was naturally thrilled when his human companion Sarah threw him a little birthday bash.
To celebrate her beloved JD's milestone properly, Sarah bought him a festive gourmet birthday cake that was special made for a horses dietary needs. That way he could chow down on it without feeling guilty or sick the next day. After she gathered her friends together and lit the candles on the cake they all began to sing Happy Birthday to the big fella.
At the end of the song she told JD to blow out the candles and what he did next was hilarious. Not only did he blow out the candles like a pro, right after that he made the funniest horse face ever! He knows how to work a stable and a camera because the megawatt smile on his face was just magical, contagious, and downright fantastic!
JD happens to be the grandson of the legendary America Thoroughbred racehorse Secretariat who was a Triple Crown winner back in 1973. But don't let that fact fool you because while his grandfather may have been lightning quick fast, JD apparently didn't inherit his record-breaking speeds. What he lacks in swiftness he more than makes up for in personality and charm!
And that face, it's too cute, you have to see the expression he pulls for the camera so check it out and smile!
Please SHARE This With Family and Friends Who Need a Smile Today 🙂