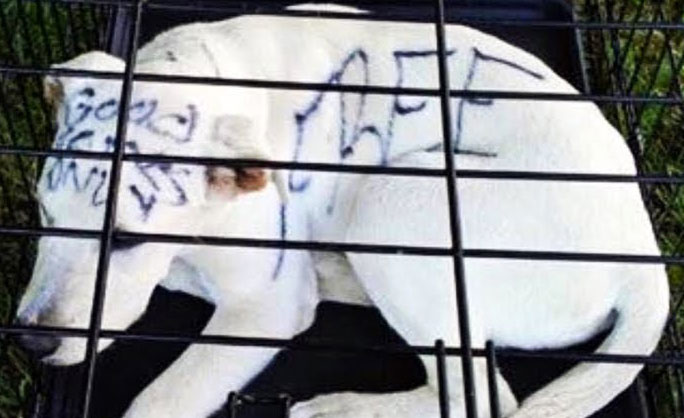 image via – youtube.com
Anyone who wants a dog needs to be prepared for the responsibility that it entails.  Being a pet owner is a full time job that requires a lot of time and attention, if you can't give an animal the life it deserves, then you shouldn't have one.  
Unfortunately, people who have no business owning a pet sometimes end up with one.  Oftentimes they realize too late that they're not up to the task and so they either surrender or dump the animal somewhere.  That's what happened in the unbelievable case of Marvella, a 5 moth old puppy who was found abandoned in a Chillicothe, Ohio park by a couple. 
They had gone out for a walk when they suddenly stumbled across a little white puppy locked inside a metal cage. The poor dog had words written in black permanent marker all over its body, including "free", "good home only", and "I am a gift from God."  It was incredibly disturbing to see a dog locked up and abandoned like that, but the messages written in fur were especially cruel. 
The couple ended up calling the police who brought the puppy to the Ross County Humane Society.  When the staff there first saw the dog they were appalled at her appearance and decided to call her Marvella, from the French word "merveille" which means miracle. 
They immediately set out to clean up her fur and washed her gently with a mixture of dish soap and hydrogen peroxide. When they were done only the faintest marks remained and the staff showered Marvella with all the love and attention she deserved.
They also shared her story online where it quickly went viral, people all over the world were smitten with the cute little puppy's happy smiling face. 
Adoption applications soon poured in and after sifting through well over 90 of them, one family was finally chosen to be her forever home. Within a week Marvella was out of the shelter and in her new home with the Reitzel family, who were over the moon to be placed with such a great dog.
Perhaps just as important as Marvella's happy ending was the spotlight her story shone on all the other animals who are abandoned and surrendered every day.  Many people were inspired to donate to the shelter and the awareness she raised helped many other dogs stuck in similar situations.   
Watch the video below for the full story:
Please SHARE This With Family and Friends