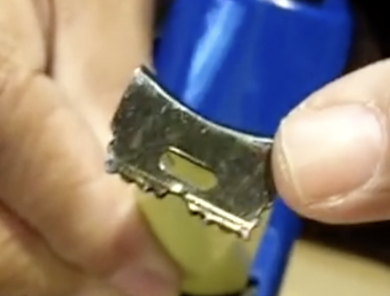 image via – youtube.com
Even if you are not the handiest person around, you definitely have used a tape measure in many different circumstances.  There are things about a tape measure that you may have wondered about, but never thought to ask.
Even if you haven't wondered about these characteristics of a tape measure, the tricks that you are about to see in the video below, are well worth your time. Leah, of "See Jane Drill", offers some invaluable tricks that the tape measure is capable of, that I, for one, am thankful to learn about.
When I have been alone doing measuring for various things, I have found it difficult to handle the tape measure myself.  Leah's tutorial will show you four invaluable tricks when using a tape measure alone.
She points out that all tape measures have these four features that will make your life easier.  The first is the little slot in the middle of the metal end of the tape…it turns out that it is a "nail or screw grab"!
To see how this works, as well as the ridges at the bottom of that little metal piece and two other features, watch this incredibly illuminating footage.
Get ready for the video tutorial below and you will never look at a tape measure the same way again!
Please SHARE This With Family and Friends