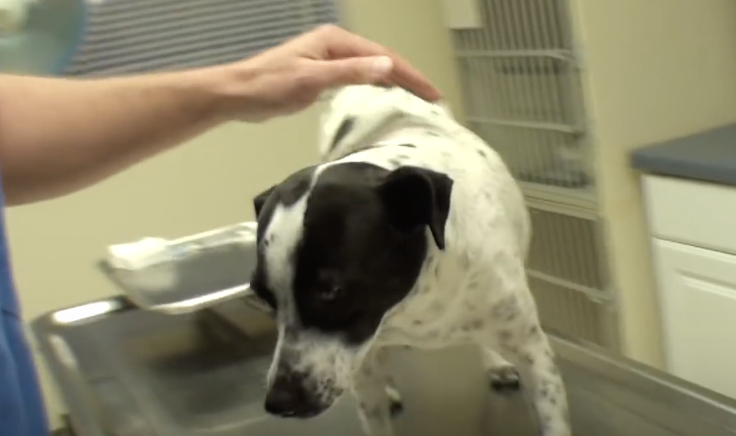 Every day animals are rescued and taken out of shelters just hours and even moments before they are scheduled to be euthanized. Many shelters struggle to house and care for the endless stream of animals that are brought in and only a few of them have no-kill policies.
Thanks to the efforts and work of people all across the nation some of the animals who are about to be put down end up getting pulled out. One non-profit program called Vet Ranch is involved in doing just that. The Texas based organization recently rescued a pregnant dog named Gracie, and thus gave both her and her unborn babies a second chance at life.
Gracie is a white and black spotted dog who is friendly, happy and very sweet in nature. When she got to Vet Ranch she was clearly pregnant and had a bad eye that she likely couldn't see out of. The veterinarian examining her, Dr. Schuessler, determined it wasn't causing any pain and so her treatment was focused first on her unborn babies.
He examined her, took an x-ray to check on the growing puppies, and kept a close eye on her in the days leading up to her expected delivery date. When Gracie was further along in her pregnancy a follow up x-ray showed why she was growing so big, between 11-12 puppies were in her belly, which was quite an unexpected surprise!
Dr. Schuessler wanted to make sure that Gracie wasn't alone when she delivered the puppies so every day he checked her for any signs that indicated she was about to give birth. Despite his best efforts, one morning the Vet Ranch staff came in and there she was, laying on the ground with 12 of her newborn babies!
Some were still wet so the staff knew she must have just given birth. They helped clean them off, warmed the newborns up, and placed them back with their mama who was already nursing them and showing signs of being a great mother.
Thanks to all the work and attention of the staff, plus individual's donations who make it possible in the first place, Gracie and her puppies are alive and well. The video tells the rest of Gracie's story and gives an update on her puppies.
One Vet Ranch client has even taken in Gracie along with one of her babies, while the rest will be placed in good forever homes. Hopefully her story will inspire more people to rescue and adopt shelter animals, especially those who are scheduled to be euthanized for no other reason than ending up at an overcrowded shelter.
Please Share this story with family and friends