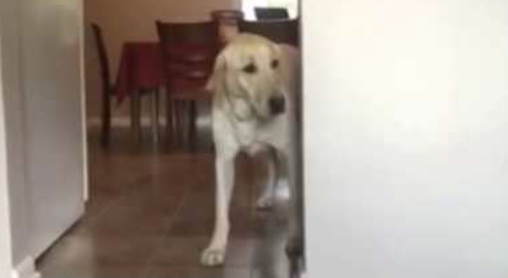 People and animals face their fears in all sorts of different ways. The most common advice that you often hear given involves going head first and staring whatever it is that you're afraid of in the face. If you have a fear of heights, go to somewhere high enough to make you uncomfortable and look down.
If you are afraid of swimming in the ocean, go to the beach and jump in the water. While this is sage advice, it doesn't work for everyone. Instead, people turn to alternative ways in which they can try to stand up to their fears. Whether it's through meditation, hypnosis, therapy, or something else, if you can find a way to get past personal fears it should be considered a huge success.
Many people like to say "what doesn't kill you makes you stronger," and that's the attitude you should adopt before, and after, you conquer your inner demons and fears. Take a page out of this dog's book, and watch what he does in the video to do just that!
The adorable Golden Retriever has a very unique way of facing his fear of carpet. While he doesn't mind walking on hardwood floors, the sight and feel of carpet beneath his paws makes him very nervous. As you can see, he whines and glances at the carpet before him with fear in his eyes as he hesitates to step on it.
Finally, he gathers the courage and strength from deep within himself, turns his body around a full 180 degrees, and backs up rear-end first onto the carpet. He successfully faced his fears in the cutest, most comical way possible. What an awesomely clever dog and more power to him!
Please Share With This Hilarious Video With Family and Friends