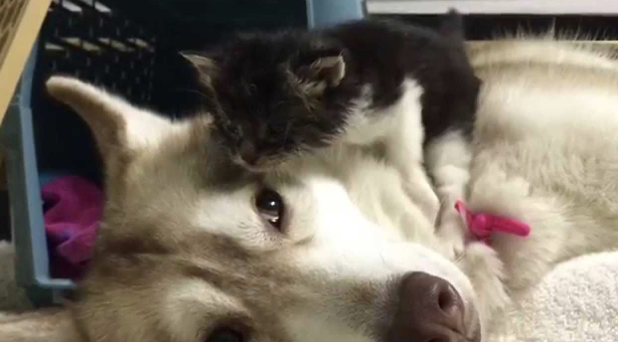 We have all watched many cute videos of animals on the internet, but the only word for this one is blissful. This tiny little kitten, Rosie, found solace after her first shaky night in her new home. Usually that first night of transition is very stressful, particularly for baby animals, and so it was for Rosie.
Her owners noticed that she was sluggish and not responding to their attempts to comfort her. They came up with a unique idea, hoping to turn her around. They had a full grown husky, Lilo, who despite the fact that she had never had any puppies, had always displayed a strong maternal instinct.
It is probable that Rosie had just been taken from her mother, and had been nursing, so her instinct to snuggle up to Lilo is far less surprising than Lilo's reaction. It is always a bit of a gamble when an adult animal of another species is approached for comfort and care.
It certainly is not uncommon to see adult animals nurture across species, but Lilo's immediate tender and loving care taking of darling little Rosie is just so special. The music set to their interaction in this beautiful video makes it all the more heartwarming. Sit back and enjoy these four minutes of sheer bliss!
Please Share With Family and Friends