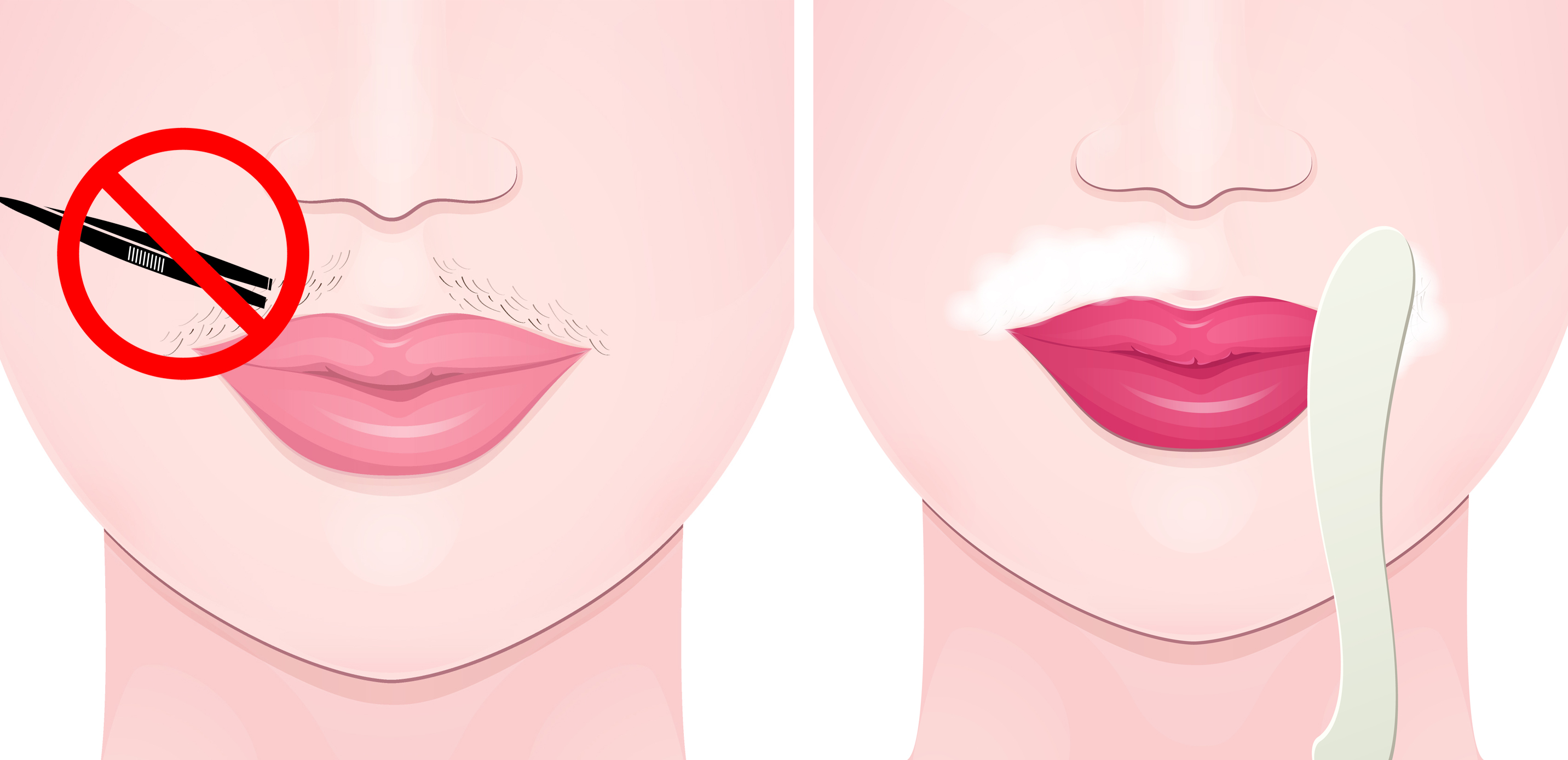 image via – shutterstock.com
Facial hair is a very common problem that many women struggle with and yet no one ever really wants to discuss it. Lets face it, peach fuzz and straggly hairs on your upper lip, chin, neck and face are annoying and unsightly. It's also incredibly frustrating because for the majority of women out there, unwanted facial hair is a nightmare to deal with.
People have ended up spending a small fortune on a range of methods in their quest to remove it. There's a seemingly inexhaustible supply of waxes, creams, razors, gels, lasers, lights, and more that all promise to banish facial hair for good. Many of these treatments are pricey, some actually cause more harm than good and leave skin irritated, while others don't even work! So what's a woman to do?
Instead of turning to some product that's filled with harsh chemicals, try an all-natural alternative method. This simple 3-ingredient face mask from beauty blogger Himani Wright is the perfect solution to all your unwanted facial hair problems! It's safe for all skin types, convenient, and super affordable. Not only is it easy to make and use, it actually works and removes hair and peach fuzz effectively. Plus, if you use this regularly it will eventually get rid of facial hair completely and permanently, so you can skip the painful waxes once and for all. The following is exactly what you need for it:
½ teaspoon of extra virgin, cold pressed coconut oil
3 tablespoons of wholemeal* flour (*this is the same as wholewheat or wholegrain flour)
A splash of water
1. Start by gently massaging coconut oil into your skin, taking special care to cover your entire face.
Coconut oil has anti-fungal properties, which is part of what makes it an excellent base moisturizer. It's commonly used in beauty treatments because it contains protective nutrients and antioxidants that our skin, hair, and bodies love.
2. After you're finished with the coconut oil mix together 3 tablespoons of wholemeal flour with enough water to form the thick, pasty consistency, as shown in the video.
3. When you go to apply the flour mask to your face use a downward stroke and work in one direction.
4. Allow it to dry and after about ten minutes you can begin to remove the mask. Rub your face gently in the opposite direction than how you applied it, using an upward and out type of motion. When the majority of the mask has been removed you can wash the rest off of your face with water and then pat it dry with a clean towel.
5. For optimal results, apply a toner to all treated areas to close up pores and further protect your skin's health. Finally, finish up with your favorite moisturizer and you're done!
This wholemeal flour treatment works best when done twice a week for at least one month, all while waiting a couple of days in-between each application. After the first month you can cut it back to once a week for however long it takes for facial hair to lessen and disappear.
This is by far one of the easiest all-natural ways to remove facial hair and it costs just a few dollars. Please pass this along and share this beauty tip with others. Who knows, it could change someone's appearance and life for the better. In the meantime, try mixing up a mask and prepare to be amazed at how well such an unlikely solution actually works!
Please SHARE This With Family and Friends 🙂