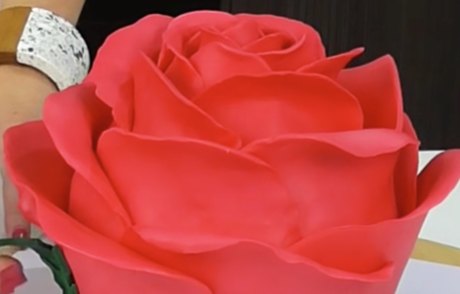 image via – youtube.com
If you want to make an extra special Valentine's Day treat, or simply a gorgeous looking dessert, you have to try your hand at this rose cake recipe. It's basically a work of art and even though it looks really hard to make, it can be accomplished.
All you have to do is follow along and watch what Vanessa from Cake Style does in this video tutorial and copy her every step of the way. She also included some really helpful links to the other recipes she used to make the cakes, frosting, and modeling chocolate, so be sure to check them all out.
Before you can begin decorating you'll need to bake two 6 inch round cakes ahead of time and whip up a batch of sweet butter cream frosting. Add some red food dye to color it pink or red and then make a batch of the modeling chocolate that she uses.
Modeling chocolate is similar to fondant in that it's easy to mold, shape, and add color to, but it's made from mainly melted white chocolate and corn syrup which makes it taste a lot better. The main issue with fondant is that it tastes gross, so modeling chocolate is definitely the way to go.
Once you have those three main components you'll need to gather up a few things including a large spatula, bread knife, metal or plastic scraper, small rolling pin, 3 ¾ inch round cake plate, 12 inch square cake board, cornstarch, small paintbrush, Exacto knife, water or clear alcohol, toothpick, parchment paper, cutting board, turntable, and 2¾, 2½, and 3¾ inch cookie cutters.
It may sound like a lot, but all of these things will make your cake turn out looking like a professional made it. The decorating instructions are best left to Vanessa to explain and this is something you truly have to see in order to understand and replicate it.
She does an excellent job describing everything that you'll need to know and by the time your done you'll have a seriously sweet looking rose cake.
Try it out, even if it turns out less than perfect, it's the thought that counts. Plus, it'll still be edible!
Please Share This Recipe With Your Family and Friends 🙂