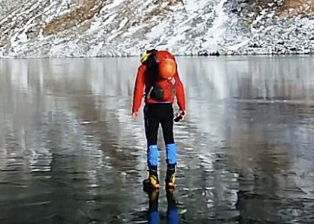 image via – youtube.com
Mere mortals can only dream of walking on water, but a group of hikers came close to doing exactly that. They walked on ice that was so crystal clear and smooth that it looked as if they were walking on water. Tomas Nunuk was trekking through Slovakia's Tatras mountain range with some friends when they came upon a lake called Velke Hincovo Pleso.
The beautiful body of water is located 6,300 feet above sea level near the looming Koprovsky stit mountain. This isn't just any old lake, it's the deepest one in all of Slovakia, measuring 176 feet at its deepest point.
When the hikers reached the waters edge, a spectacular sight met their eyes. The surface of the lake was completely frozen solid but the ice was crystal clear, to the point that it was see through. There were no white spots or gas bubbles marring the clarity of the ice and the rocky bottom of the lake was perfectly visible in the shallow spots.
Thomas recorded the moment that he and his friend stepped out onto the ice and they can be seen gingerly walking across glassy surface. The video quickly went viral after he posted it online, with many people calling it beautiful, and others expressing skepticism about whether or not it was truly real.
The skeptics claimed the ice was too thin to hold the men and that ice that clear simply doesn't exist in nature. Those claims were subsequently proven false by locals, weather experts, and science. A Slovakian man, Igor Ludma, explained that ice can look like glass "when the temperatures fall from being relatively mild to very cold very quickly, and at the same time it's important that there has not been any snow which tends to make the ice very cloudy.
And we have had those conditions lately which would explain this very clear ice." AccuWeather, a provider of weather forecast services worldwide, affirmed that Slovakia had experienced the type of weather conditions described by Ludma. In addition, when addressing the video in a post online, AccuWeather also cleared up the other issue surrounding the clear ice.
They added that according to the Minnesota Department of Natural Resources, "clear ice is about twice as strong as white ice since it is much more dense…Ice looks cloudy and white when it has air bubbles due to thawing and refreezing." Thus, the ice could have indeed held the men and exist in the first place at that time, in that area.
It seems to be that the lake ice that day was simply another one of mother nature's beautiful and strange phenomenons. One thing is for certain, the footage of it is amazing and I'd love for the chance to be able to walk across a lake like that!
Would you walk across this ice? Let us know!
Please Share This Story With Your Family and Friends 🙂