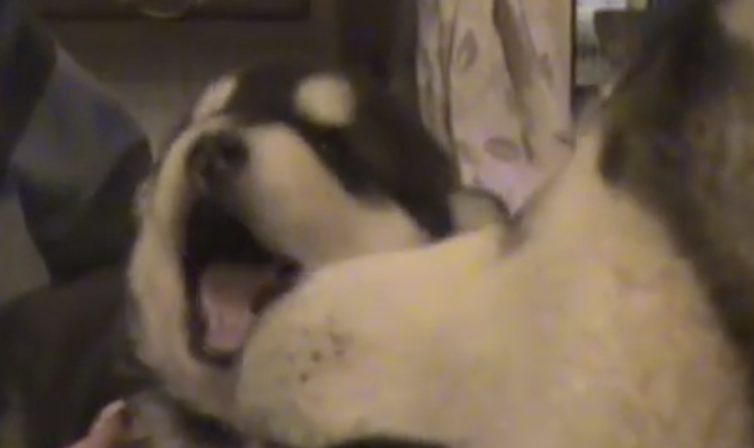 Do you know when you giggle the deepest, soul-filling laugh that makes you feel like a little kid and you can't control it? That's the kind of giggle this video provides. In just twenty short seconds an effing adorable puppy gains a little more communication with the world.
He starts the ascent of his hoot with innocent little grumbles and whines. Then he notices what happens when he opens his mouth. He is so impressed with himself that he belts it out from the bottom of his lungs. He falls out of howl when he runs out of air, and no sooner than his next breath is it he at it again.
This Alaskan Malamute is only fourteen days old and sounds almost like a cat meowing. His short howl meanders into barks and then mama dog succinctly tells him to pipe it down. He responds with whimpers and retaliation, which leads to the gang chiming in. It's funny how as pet owner's, we bark when our dogs do. Who's really in charge?
I love videos like this that are short little uplifts to your day. They come in with a jolt of impact and when it's over you're left with reassurance that the world is all kinds of beautiful. Cute baby animals lift the spirits of every being they come in contact with, creating joy and laughter for people throughout the earth and in the endless realms of the interwebs.
The cuteness of the baby animal is so powerful, it holds the very fabric of human society in a higher state of vibration through welcomed psychological manipulations, exercised through very large, round heads and relatively enormous eyes. Thank you, cute baby animals!
Please Share With Friends On Facebook