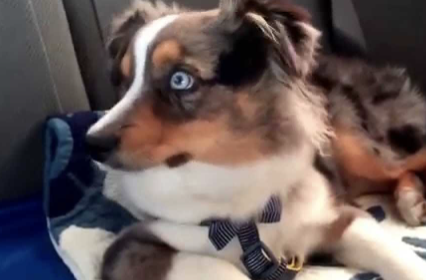 image via – youtube.com
Wide eyed and bushy tailed, literally. An Australian Shepard, Oakley, is snoozing comfortably in the back seat of a car when the sound of piano keys grabs his attention. Slowly one eye opens a crack, and when the realization of the song playing sinks in, the other eye pops open to reveal hetero-chromatic excitement!
The dog's ears twitch as the melody continues and he lifts his head, clearly pumped to be hearing his jam. Once the vocals begin, the soulful pup just can't contain himself anymore and he sings along to the well known tune.
Howling gently, Oakley waits patiently for the build of the ballad. He pensively stares into the distance as he deeply feels every note and when the artist's voice escalates, Oakley belts it out too. The dog sincerely resonates with the classic chorus and its message, allowing his sweet moans to expand into heart-felt barks.
Just as the canine is opening up, the song is changed to something less appealing. He responds by closing his mouth, laying down on his seat and effortlessly returning to his original slumber.
Clearly, he can't be bothered by any music lesser than his favorite but, being the polite Shepard that he was raised to be, he does not seem phased or disappointed by the abrupt switch, merely disinterested. What a kind and passionate pet!
Please Share This Adorable Video With Family and Friends