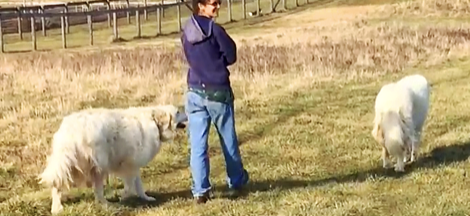 Ahhh the tranquility of country life…a quiet morning walk on the farm with your two dogs and sunshine warming your back.  Sound good?  City life offers excitement and culture, while country living allows human beings a chance for quiet and serenity.
Sure there are benefits to both environments, but watching this unexpected moment caught on the video you are about to watch below, gives you a glimpse of rural charm.  As you will see in this surprising footage, country life is anything but lonely!
On a morning walk with her two dogs, you can imagine this woman is lost in thought as sheenjoys the fresh air and companionship of her "best friends".  What she doesn't realize is she is being watched by others, who are not about to be left out!  Be sure to watch this hilarious video to the end…you've heard of the "Pied Piper'?  This may inspire you to get away from it all in a different way, the next time you plan a vacation.
Please SHARE this Video With Family and Friends 🙂