Image via: Youtube
The day is so clear and the water so blue, that there is an almost unreal quality about the morning, as the Pro-Windsurf La Ventana team takes to the water.  They are on the Gulf of California-The Sea of Cortez, as their boat skimmed the beautiful waters with a young woman wake boarding behind.
The first thing you will be struck by when viewing the footage below, is the skillful ease with which this woman wake boards.  It's as if the water presents no obstacle to her balance at all.  This becomes more evident as she notices a surprise in the water, before the camera picks up the activity.
When the man driving the boat in the video realizes what is happening in the water he is enthralled.  He accurately predicts what will happen with the incredible footage they are getting; he says to the person behind the camera, "Keep filming…We're going to make a YouTube sensation!"  He was right, what they capture is beyond anything you could ever plan for.
Please SHARE This With Family and Friends
Click
Like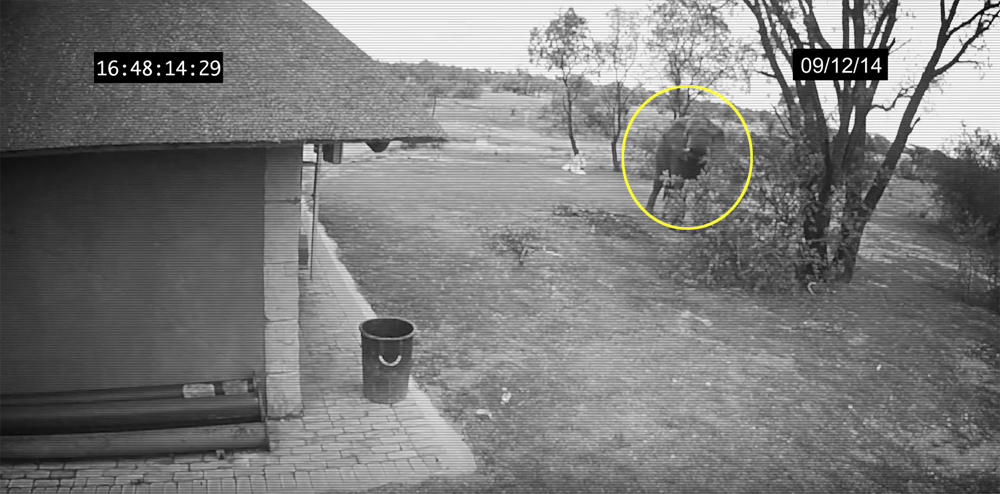 Image via: Youtube
Elephants are among the most intelligent species of animals that walk the Earth's surface. They are highly complex and extremely social mammals who live in caring, tight knit family groups. Many people know that an elephant never forgets, thanks to their incredible memories, but they are capable of so much more. They cry, play, laugh, are self-aware, and express a wide range of feelings and emotions from grief to compassion and beyond.
There are a number of fascinating videos clips out there featuring elephants doing all sorts of amazing and unbelievable things. They have been captured playing pianos, saving other animals and people, and now there's even video evidence of them recycling garbage. A surveillance camera recently caught one wild elephant doing a little tidying up around the Thornhill Safari Lodge in Limpopo, South Africa. The lodge is located at Kruger National Park, which is home to countless animals, including thousands of wild African elephants.
The elephants are free to roam and the one seen here was munching on some tasty tree leaves when he happened to spot a few pieces of litter scattered on the ground near a trash can. He ambled on over and did what any good person would do, he picked it up and disposed of it properly. That's no easy feat for a massive animal that weighs thousands of pounds and has no hands. However, he does have a trunk which is just as effective at picking things up. With a little maneuvering and some help from his feet, he was able to grasp the trash and place it in the bin.
He's definitely seen people throw out trash before and use the bins, which is why he knew exactly what to do with the litter. He remembered what he'd observed before, learned how to recycle, and did it on his own volition. It speaks volumes when an elephant has to pick up after man. Too bad some people have never learned to do the same because the world would be a much cleaner, and safer, place for us all.
Please Share This With Family and Friends
Click
Like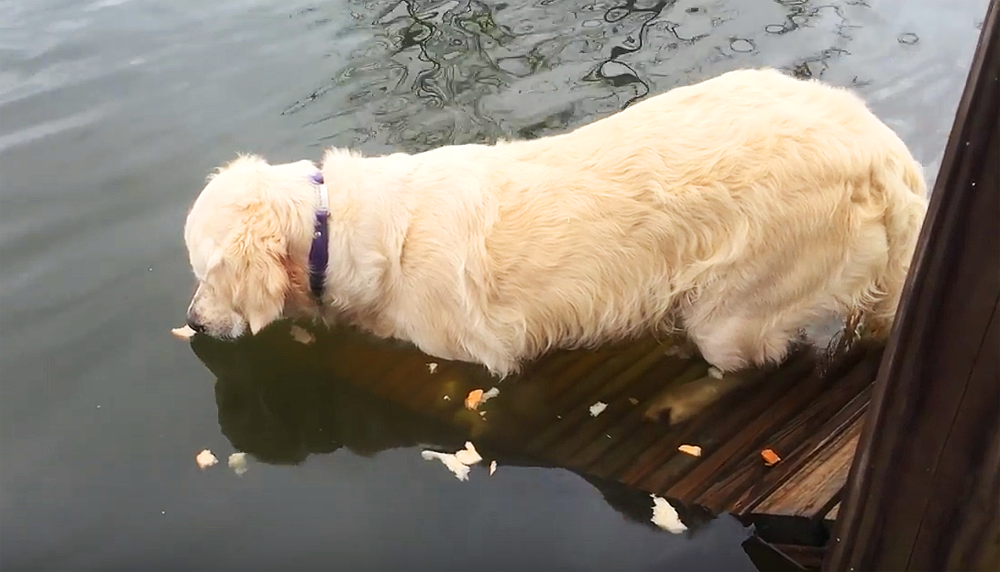 Image via: Youtube
There are lots of smart dogs out there in the world and one of them is named Rani. She is a lovable Golden Retriever who happens to also be a service dog in training. She was undoubtedly picked for the profession because of her intelligence, as she's clearly one smart puppy. Beyond brains, Rani also possesses a few other key qualities that will make her a great service dog one day, patience and focus. Those two things are on display in this awesome footage of her fishing.
Yes, that last line is correct. She enjoys fishing and, as you can see in this video clip, she's really good at it! According to the information provided by her owner on the post, she has "caught dozens of fish as well as some turtles." That's quite an impressive feat for a dog who can't even use a pole or net. Instead, Rani uses bread as bait to lure unsuspecting fish closer to her. She wades chest deep into the water and then sits completely still and as motionless as possible. The bread floats soggily on the surface all around, right under her nose and mouth, as she intently stares down into the water below. Then, when the time is just right, she expertly snatches a fish right out of the water with one lightning quick move. She is a better fisherdog than any of the fishermen I know!
In this clip she ended up catching a bluegill and she is pleased as punch about it. Right after she snagged it a woman's voice can be heard in the background saying "She got one, it's a big one." Then Rani walks back along the dock, proudly swishing her fluffy tail as she goes, with her catch securely held in her mouth. What a sweet, smart, beautiful dog!
Please Share This Brilliant Dog With Family and Friends

Click
Like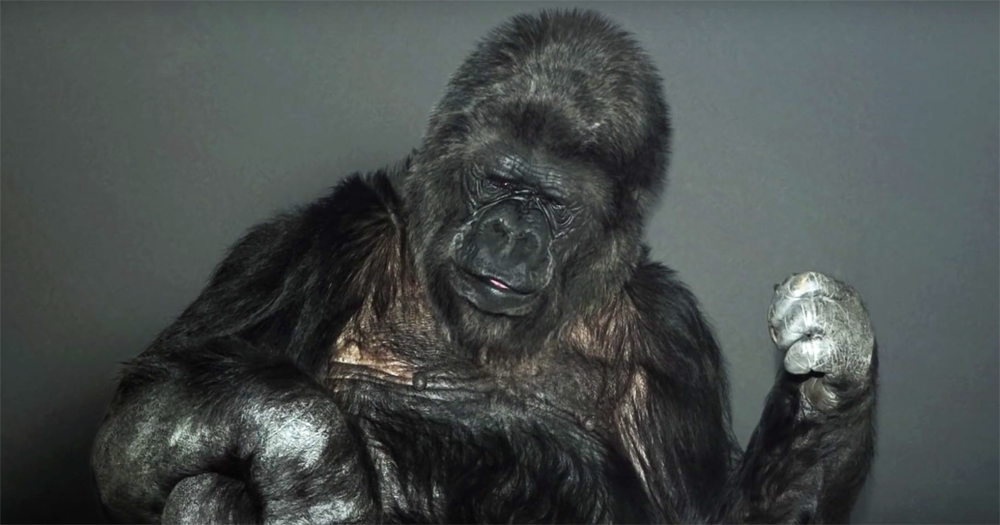 Image via: Youtube
Koko, the world famous western lowland gorilla, is weighing in on the state of Mother Earth in a message for all of humanity. In the heartbreaking clip she uses sign language to communicate her thoughts and feelings on climate change and mankind's harmful effect on biodiversity and the environment. The sixty second video starts off with her signing "I am gorilla… I am flowers, animals… I am Nature. Man Koko love. Earth Koko love. She continues on, changing her tone from one of love to one of urgency saying, "But man stupid… stupid! Koko sorry… Koko cry. Time hurry! Fix Earth! Help Earth! Hurry… Protect Earth… Nature see you. Thank you."
Koko, who is now 44 years old, has been learning sign language since the age of one. She is said to be able to understand over 1,000 signs of what her trainer, Francine Patterson, calls Gorilla Sign Language (GSL). In addition, she was simultaneously introduced to spoken English at an early age and understands about 2,000 English words because of this. To truly understand Koko's message, you have to know the backstory to this video and that it was scripted in part by both The Gorilla Foundation and NOE Conservation. The French conservation association is primarily focused on preserving biodiversity, while the foundation supports Koko and is where she has lived for many, many years. They worked together to help promote and increase awareness of their message of conservation ahead of the UN Climate Change Conference (COP21) that was held in Paris this past November 30 – December 12.
Her iconic status and extremely rare ability to communicate directly with people is why Koko was chosen by the two groups to act as an ambassador on behalf of endangered species everywhere. She was told about the events and informed of the issues surrounding the Paris discussions and then her reaction to it was captured. According to a spokesman for The Gorilla Foundation, "We presented her with a script drafted by NOE and allowed her to improvise during a series of brief daily video discussion sessions. The result was edited from a number of separate takes, for brevity and continuity."
In the end, it offers an eye-opening, powerfully symbolic take on all of the damage to the environment and the harmful effects that man has inflicted on the planet. Take a moment to listen and check it out.
Please Share This Story With Family and Friends
Click
Like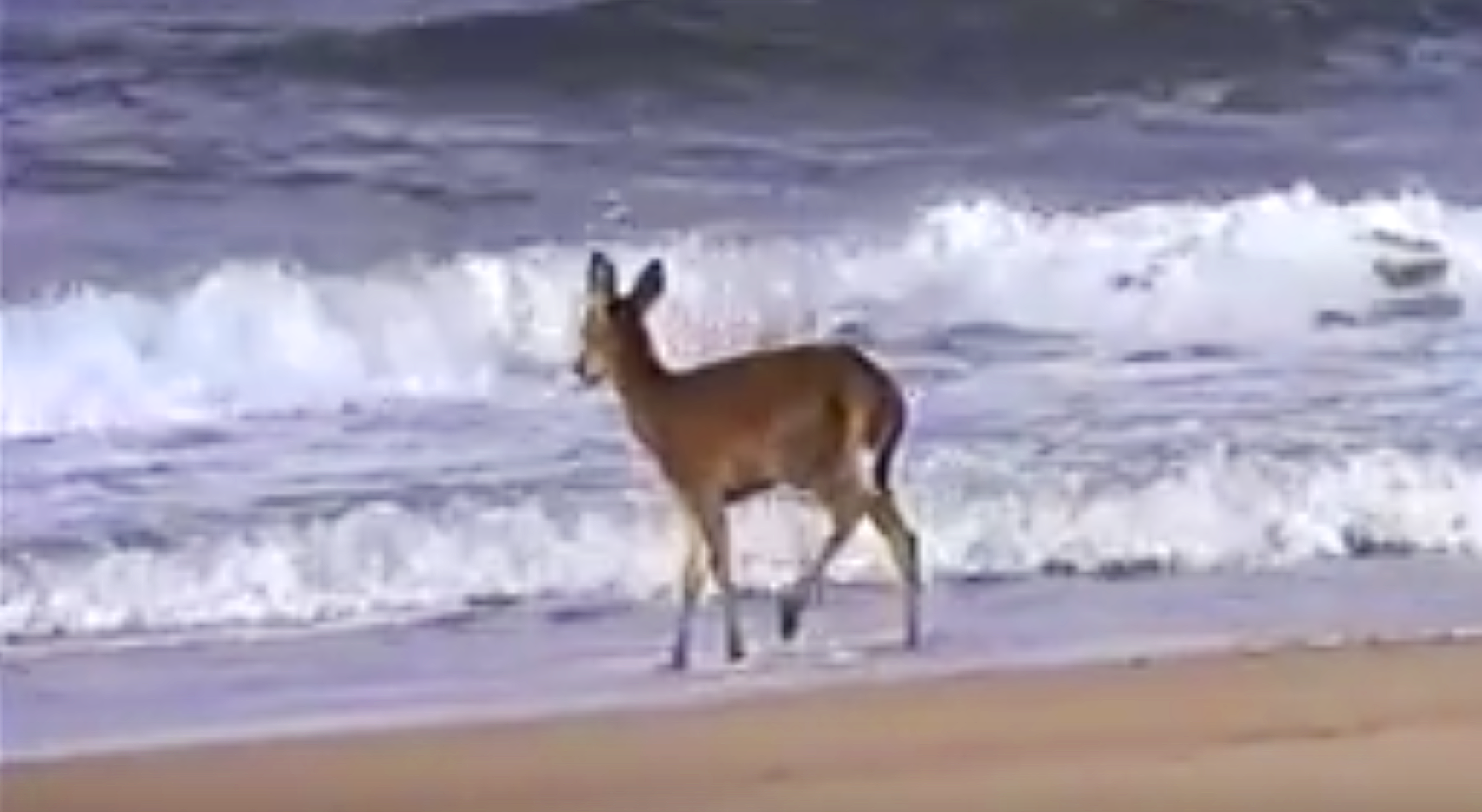 Image via: Youtube
The uniqueness of every creature on earth is part of the wondrous magnitude of life.  It is somewhat more obvious that human beings and domestic animals are products of both their genetics and environment, than with wild animals.  Although wild animals of a particular type, tend to live in similar environments, there are individual differences in their characters as well.
This is well illustrated in the incredible footage you are about to view below.  We tend to see deer romping in the woods, so seeing a deer near the ocean is unusual in and of itself. Watching this particular deer in this environment is nothing short of awesome.
This beautiful, graceful animal first approaches this active body of water with some understandable timidity.  Within no time at all, it seems to comprehend the movement of the waves, and becomes a natural at riding the waves.  It bounds back and forth and through the exciting water as if the ocean was it's natural environment.
Captured by a filmmaker, Anthony Martin, this deer was filmed on the southwest coast of France; it seems that it actually is not uncommon to find deer living near a shoreline.  Maybe that explains this animal's finesse in navigating the ocean's waves.  One thing is for sure, the sheer joy in it's encounter with this remarkable part of nature will make your day; it put a smile on my face and a feeling of wonder in my heart.
Please SHARE This Story With Family and Friends
Click
Like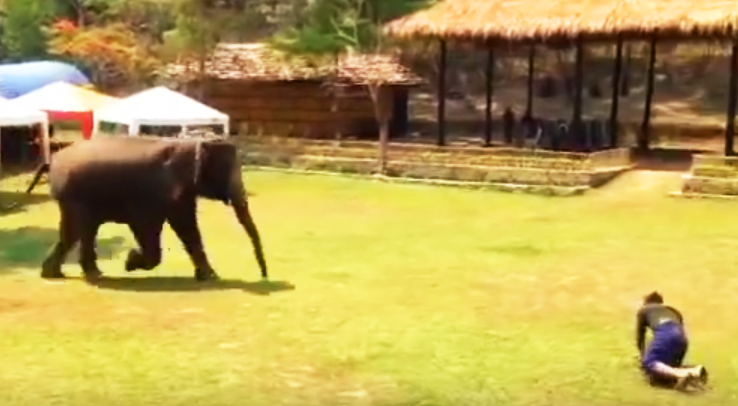 Elephants are among the most intelligent species of animals that walk the Earth's surface. They are highly complex and extremely social mammals who live in caring, tight knit family groups. Many people know that an elephant never forgets, thanks to their incredible memories, but they are capable of so much more. They cry, play, laugh, are self-aware, and express grief and compassion. When another elephant in the group passes away they all mourn the loss.
They have also been observed grieving when a close human friend or caretaker dies, as was the case when Laurence Anthony passed in 2012. Anthony was known as the "elephant whisperer" for his amazing ability at calming and reforming violent, traumatized elephants who were seen as pests in South Africa. By taking an interest in, and living among them while rehabilitating, the out of control animals, he saved their lives from certain death. Shortly after he died, two separate and distinct herds of elephants made a miles long, 12 hour, non-stop journey to his home. They showed up and stayed for two days to pay their final respects to the man who had loved and saved them before heading back into the bush. Somehow, in their hearts or minds, they had sensed the loss of friend and wanted to say goodbye to him.
The strong emotional and unspoken bond that can develop between elephant and man can further be seen in this video. In it is an elephant named Thongsri who lives in Thailand with her human caretaker. She clearly cares a lot for her friend and when she noticed that he was being attacked by another man she rushed over to defend him. It doesn't matter whether or not her caretaker and the other man were play fighting, all she saw was that someone was potentially hurting her friend. The other man ran off as soon as he saw Thongsri coming at him. Then she flared her ears aggressively and stood guard over the caretaker while he crawled around on the ground. No one in their right mind would continue to try and harm her friend, they'd likely get trampled in a second if they did! It's just further proof of what amazing, sensitive, and special animals elephants are.
Please Share This Story With Family and Friends
Click
Like