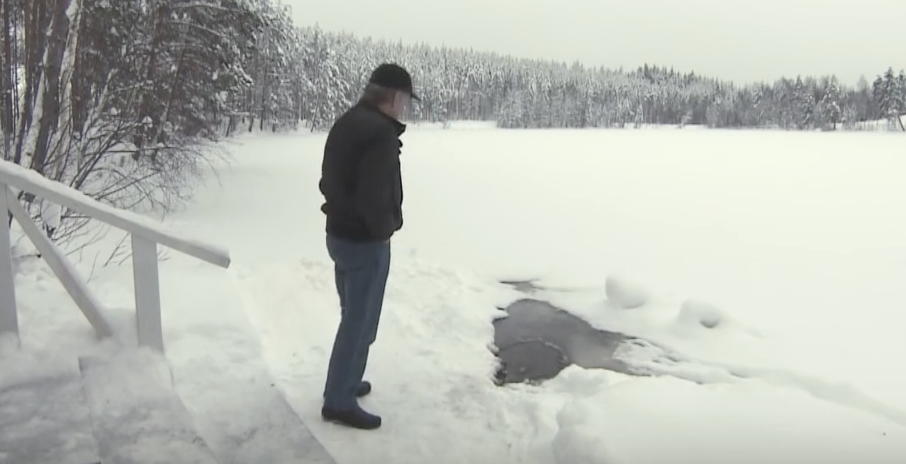 Image via: Youtube
As I scan the internet I am always particularly touched by videos that exhibit unlikely bonds between animals of different species.  Although it seems to occur quite often, it never ceases to amaze me, that a horse and a chicken, an elephant and a kitten or a dog and a monkey form a protective and nurturing relationship.
In a world where there is so much violence, it somehow makes me more hopeful that perhaps there is something intrinsically good and loving in human beings, that may ultimately outweigh our competitive and destructive instincts…one can hope.
The video that you are about to watch below, is yet another instance of unlikely trust betweenan elderly Finnish man, Seppo Laaman, and an animal that lives in a hole surrounded by snow and ice near his home.  This lovely man opened his front door one day, to find this starving wild otter whom he nicknamed "Iivari", needing help.  He fed him fish and worms to restore him to a healthy enough condition to go back and live in his natural environment in the wild.
As you watch this heartwarming footage of their trusting relationship, understand that this smart little otter is not Seppo's pet.  They have an understanding, as you will see them communicate, that is mutual and has boundaries that are free.
Please SHARE This With Family and Friends
Click
Like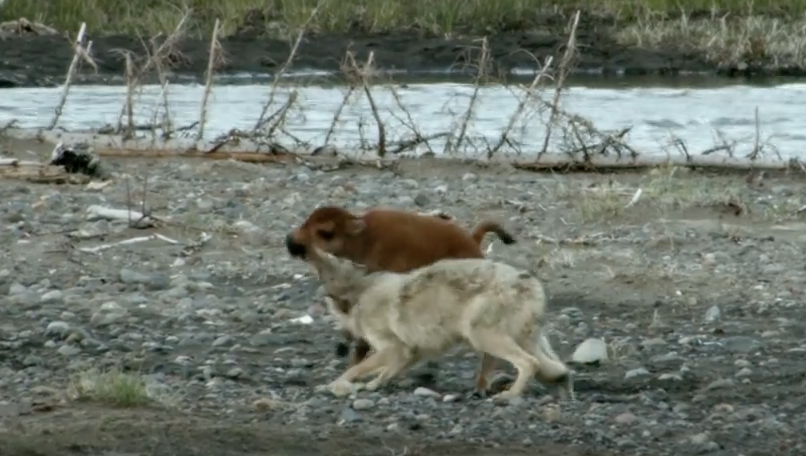 Image via: Youtube
Baby bison have been in the news lately for all the wrong reasons. If you haven't yet heard, one was recently picked up by concerned tourists in Yellowstone National Park and brought to rangers in the back of their car. The foreign tourists claimed that they thought the young bison looked cold, so they warmed it up in their car. However good their intentions may have been, it turned out to be deadly for the calf. Park rangers spent over two days trying to reunite the calf with its mother, but all attempts were rejected. Because of that, and since it kept approaching people and cars near the roadway, the youngster was subsequently euthanized. In addition, it's illegal to transport an untested bison outside of the park due to the potential for spreading Brucellosis, a bovine disease that can easily spread among cows and bison.
This other baby bison story has a much happier ending and there is no human interference with the course that mother nature intended. The National Geographic video clip shows a young bison calf who is just seven days old attempting to cross the Lamar River, located in northwestern Wyoming. The water is running higher and swifter than usual due to melting snow, which causes the tiny baby to lose its footing and get swept downstream. It finally reaches a small gravelly island and climbs ashore, but it's freezing cold, sapped of energy, hungry, and all alone. Night is closing in on the baby fast and the rest of the herd, including his mother, has continued on their journey.
Things go from bad to worse when a hungry wolf spots the lone baby bison and moves in for the kill. It reaches the island and latches on to the calf's throat, trying to bring it down, but the bison manages to stay on its feet and stand his ground. The wolf is far from experienced and struggles to maintain its grip in the calf's throat as the two flail about. Suddenly, a noise in the distance startles the lone wolf and causes it to halt its attack.
Seconds later the young bison's mother comes thundering into view and she saves the day!! The wolf backs off and can only look on helplessly as mother and child reunite. After a quick greeting and sniff the hungry baby immediately gets to nursing. It will need all the strength and nourishment it can get after the harrowing ordeal it went through and it's incredibly lucky to be alive. What an awesome story of instincts, survival, and the powerful bond between a mother and child!
Please Share This Story With Family and Friends
Click
Like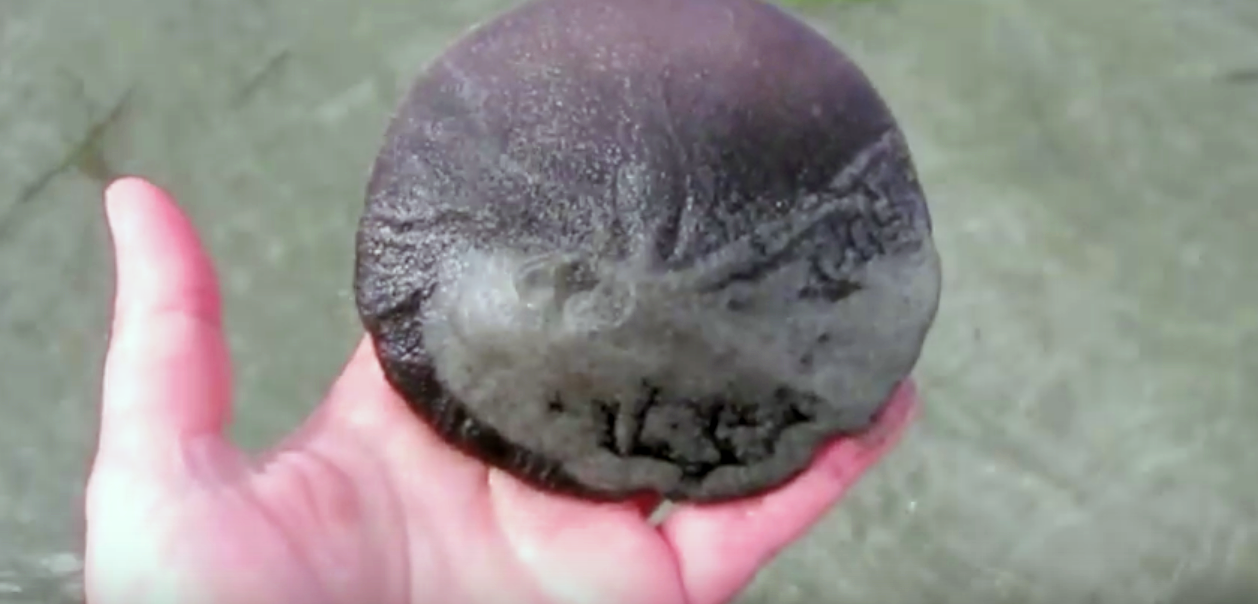 Image via: Youtube
When we go to the beach, we often find flat, white discs, which almost look like they have been painted on the front with a star/flower design.  They are pretty and smooth to the touch, and a nice ornament to bring home and put in a dish or on a shelf.
These disk-like objects are known as "sand dollars"; amazingly these pretty objects were once live organisms in the ocean, that are part of the sea urchin species.  Relatives of Starfish, Sea Urchins and Sea Cucumbers, we rarely see them alive.
To be completely honest, I've always thought of them as inanimate objects and have collected them like pretty seashells.  This being said, when I came upon this video below, that is a clip from the "Sea Something" YouTube channel, I was more than a little freaked out when the narrator scooped up a live sand dollar and turned it over.  Watch this footage, and let us know if you've ever seen one of these alive.
Please SHARE This Amazing Video With Family and Friends
Click
Like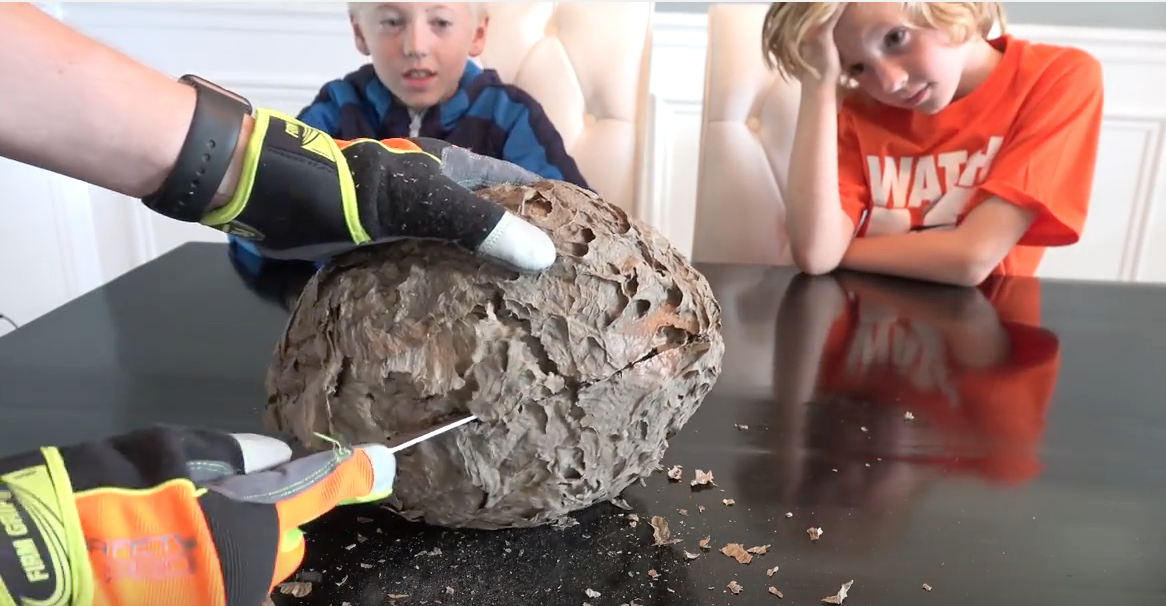 Image via: Youtube
There is something so mysterious and intriguing about what lies inside of things that we are usually not privy to.  Dan and his son Lincoln have created a YouTube Channel named, "What's Inside", where they open up all kinds of things together to discover what lies inside.  In the video you are about to watch below, we join them in discovering what lurks inside of a WASP'S NEST.
Obviously they were not going to go near a live nest, so they ordered one that was no longer inhabited, from eBay.  I find it so admirable that Dan has been sharing his curiosity with Lincoln, in exploring such fascinating things, by doing these in home "science projects".  There is nothing better that a parent can model and offer a child, than the fostering of intrinsic curiosity about the world in general, and more specifically in the workings of nature.
After unpacking the wasp's nest, you will see Dan begin the process of cutting open the nest, as Lincoln and his friend seem to be having a mixture of anticipatory excitement and a bit of squeamish fear.  I myself, watched with baited breath, as the cutting open of the nest proceeded.  Lincoln is a little bit afraid that there still might be a live hornet inside, despite the fact that they have been assured there is not.  When the cutting process is finished their gasps of amazement at the intricacy of the internal structure, matched my own.  Nature is just so fascinating, and the building capacity of the insect kingdom, is truly mind-boggling to view.  Get ready for some really amazing footage!
Please SHARE This Video With Family and Friends

Click
Like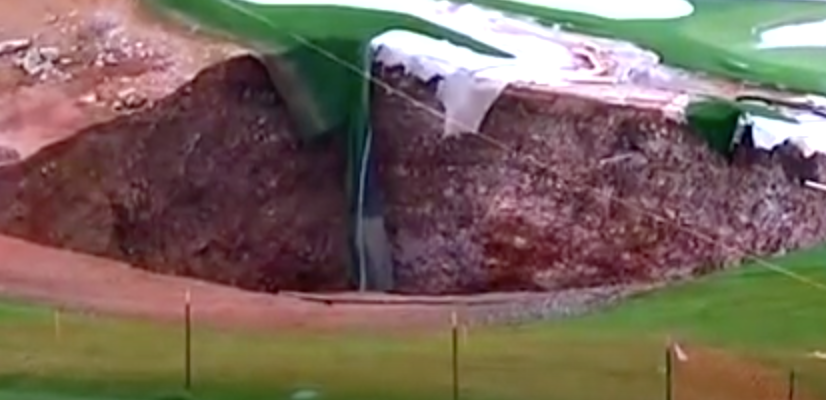 Image via: youtube.com
Imagine for a moment that you owned a golf course. You spent eight years of your life and a small fortune designing it with the help of golfing legends like Jack Nicklaus, Tom Watson, and Arnold Palmer. No expense was spared and people came from far and wide to play, business was thriving. Then about a year after opening a massive sinkhole suddenly opened up right in the middle of your golf course. It swallowed up the expertly landscaped green and effectively ground all golfing to a halt.
That scenario is reality for one man, Johnny Morris. While most everyone else would be panicking and freaking out in such a situation, Morris hasn't really sweat it. That's because he's an avid cave explorer, outdoor enthusiast, the founding owner of Bass Pro Shops, oh and a multi-billionaire.
In May of last year a giant sinkhole appeared on his Top of The Rock Golf Course in Ridgedale, Missouri. All the experts and officials that he consulted with told the same thing, fill in the hole and get back to business. It was all very sage advice but he heeded none of it. Instead he decided to dig the hole open even further and brought in a construction crew and heavy equipment. He had a theory that he wanted to explore and with money as no barrier to doing so, he went for it.
Back in 1993 he had discovered a large cave on the golf course property that is about a half of a mile away from where the sinkhole is located. When the sinkhole appeared it caused water from a pond on the course to drain into it. That water was later found to be pouring out of the entrance to the cave he had found all those years ago. This led Morris to believe that there must be some sort of underground cave system linking the two, and that's why he decided to dig even further.
His theory was recently strengthened when the construction crew came across limestone formations which would indicate the presence of a cave system below the course. So far the sinkhole has been expanded to 200 feet wide and 100 feet deep. Check out the video from Bass Pro Shops to see the size and scope of the whole undertaking and to hear the most recent update from Mr. Morris himself!
Please Share This Story With Family and Friends

Click
Like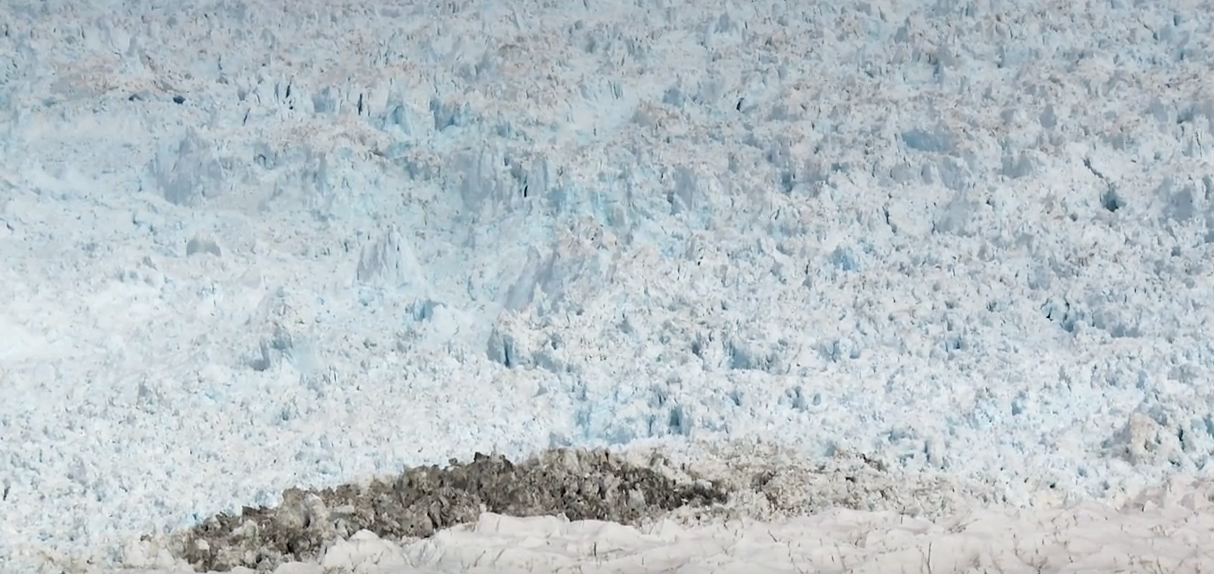 Image via: Youtube
You are about to watch a moment in nature that was captured by filmmakers Adam LeWinter and Jeff Orlowski in Greenland.  The footage you will see in this clip from their award winning documentary, "Chasing Ice", is an event that they aptly describe with adjectives that you don't often see strung together.
They began to see movement begin on the Ilulissat Glacier.  It was "calving" in a manner never ever seen by other human beings before.  The filmmakers called the event in which the glacier collapsed over a period of 75 minutes, retreating a full mile, a "Magical, miraculous, horrible, scary thing."
As this mind-blowing movement appears before your eyes, it is hard to comprehend what has actually occurred.  You will hear their astounding comparison at the end of video, which compares it to the collapse of an area of ice, that is the size of Manhattan!
They further compare the amount of movement in the last 100 years, to what has occurred in the last 10 years…startling proof of what climate change is doing to our planet.
Please SHARE This With Family and Friends
Click
Like