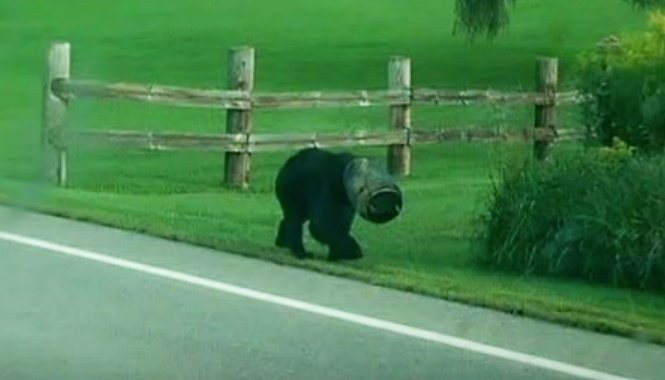 Image via: Youtube
We've all heard the term "giving a bear hug", but never have thought about it literally.  What ensues in the amazingly brave video footage you are about to watch below, is just that.  A picture of a young black bear who had been roaming around an area in western Pennsylvania, was taken by Krissy Elder.  She took the photo because the bear had an object, that appeared to be a bucket, stuck on it's head.
Elder reported the situation to the Pennsylvania Game Commission, but was told that nothing could be done to help this poor bear, because it was healthy and "mobile."  The photo was seen by Dean Hornberger and his girlfriend Samantha Eigenbrod, who were determined to help this poor creature.  As Dean is an animal rescue volunteer, he felt confident that he and some friends could rescue the bear, and release his head from the object that had been stuck there for nearly 2 months!
After several hours of searching, they were nearly ready to give up, when amazingly they sighted the bear on the side of the road.  Watching them attempt to catch and contain the bear in order to remove, what turned out to be a rubber air bag from a tractor trailer that was tightly attached by a metal ring around it's head, will have you holding your breath! Watching this chase and rescue, that took real guts on the part of these brave men, is extraordinary to watch.  It was truly a "bear hug", in every way!
Please SHARE This Story With Family and Friends
Click
Like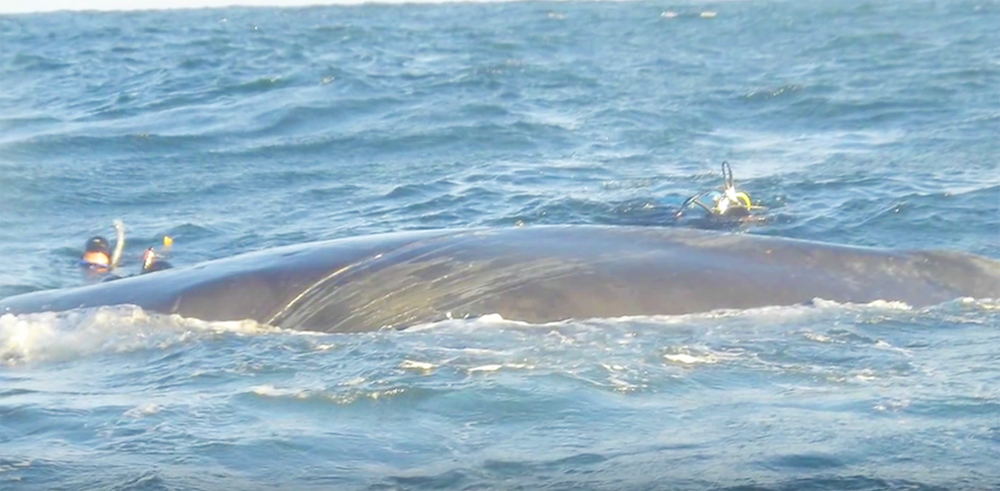 Image via: Youtube
When somethings wrong and a Humpback whale needs rescuing, who do you call? For crab fisherman working in the waters off of the coast of San Francisco, California, the answer was the Marine Mammal Center. As soon as they received the call a team of volunteers and divers was immediately assembled and they quickly set out to find the stricken whale. Time was of the essence and they knew they had to locate the poor whale before he disappeared and was lost to the vast ocean forever.
When they finally found the massive mammal they assessed the situation and noticed that it had become trapped in a messy tangle of ropes. There were many different lines that had become wrapped all around its body and they had started to dig deep into the skin. The painful lacerations were slowly weakening and sapping the whale of its strength, and making it vulnerable to predators. Without help and human intervention, the whale would never untangle itself and would surely die a slow and painful death.
Working among the team that day back in December of 2005 was an experienced diver and animal activist named James Moskito. He had done high risk rescues for over 25 years, some with the military, and was the first to enter the water. Moskito began the long arduous process of cutting the whale free from the ropes and described the mess tangled around it as being equal to a 3,000 pound anchor. He explained that "Some of the individual ropes went into the blubber two or three inches deep. I put my hand on the whale and I told the whale, 'OK. This is gonna hurt.' The whale was so cooperative, it would open its mouth and a guy would put his hand up inside of it and pull pieces of rope out of the baleen one by one." All the while the whale remained near the surface and never acted aggressive towards any of the divers. He simply floated calmly over the course of the five hours that it took before he was finally freed of his chains.
Once the Humpback was clear to go, an extraordinary and wholly unexpected thing happened. Instead of leaving the divers, it dove down below them and then back up to the surface, right to where James was. The gentle giant then slowly swam in circles and approached his rescuers, rubbing up against each one of them in turn to express its gratitude and thanks for the help. Moskito said that "It seemed kind of affectionate, like a dog that's happy to see you. I never felt threatened. It was an amazing, unbelievable experience." It's something you have to see to believe and truly appreciate, so check out the video of the incredible rescue and relive the experience!
Please Share This Story With Family and Friends

Click
Like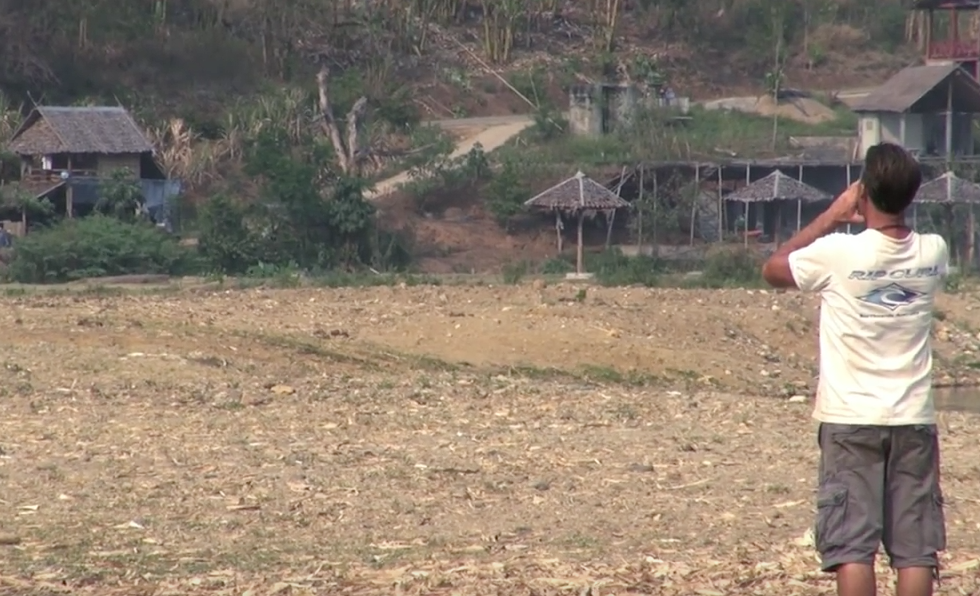 Image via: Youtube
They say an elephant never forgets because they have incredible memories and are capable of remembering all sorts of information, experiences, feelings, loved ones, and more. That's just one interesting elephant fact, of which there are quite a few. Did you know that they are the only land animal that's unable to jump, or that they purr like kitty cats do in order to communicate? Their skin is over one inch thick and just as people are either left or right-handed, they prefer one tusk over the other. The list goes on but to truly appreciate how unbelievably smart and beautiful elephants truly are you have to see them in action.
In this video you can see exactly that. In it a volunteer at the Elephant Nature Park in Northern Thailand calls out to a group of elephants who reside at the park. When they hear him hollering in the distance they swiftly come running and greet him excitedly. While most people would be more than a little nervous at the sight of four huge elephants running straight at them, the man knows better and doesn't flinch a muscle. They remember him and are his friends, so there's nothing at all for him to be worried about!
The Elephant Nature Park is a rescue and rehabilitation center that allows visitors and tourists to volunteer and help with the dozens of animals that now call it home. Besides elephants, the nature park also cares for dogs, cats, buffaloes and many other animals. A lot of them come from abusive backgrounds where they were held in horrible, restrictive, and inhumane conditions. Once they are rescued and brought to the park, their lives change immensely for the better and they are free to wander among the various animals and herds.
In time, they truly come a long way from their abusive backgrounds and their spirits shine with love, happiness, and joy, just like the four elephants in the video. What a memorable and sweet encounter to witness, watch the clip to truly appreciate it!
Please Share This With Family and Friends

Click
Like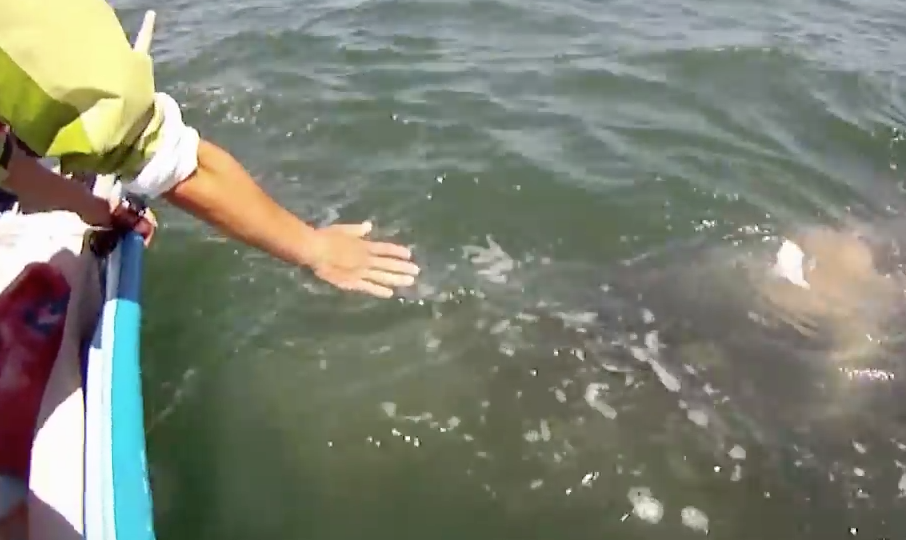 Image via: Youtube
Whale-spotting is always an exciting event, as these awesome creatures have such an extraordinary essence.  The video you are about to watch below was filmed in Mexico's famed San Ignacio Lagoon, an area that is renowned for being one of the most likely places in the world to see whales.
In fact, due to the abundance of whales in San Ignacio, whales seem to have grown comfortable with human presence in this lagoon, often actually approaching the tourist boats.  However, the boats are prohibited from initiating the contact with the whales; they are required to wait patiently in one spot, in the hope that a whale will make the approach toward them.  Surprisingly, the whales aren't avoidant about coming close; they do so quite frequently, which indicates that they have grown to trust human interaction.
In the incredible footage captured by these excited whale-watchers, you will see a mother gray whale appear and then proudly lift up her baby calf.  This was astounding, as whales are extremely protective of their young.  The excitement of the tourists on the boat is palpable, as they enjoy this rare and beautiful event.
Please SHARE This Story With Family and Friends
Click
Like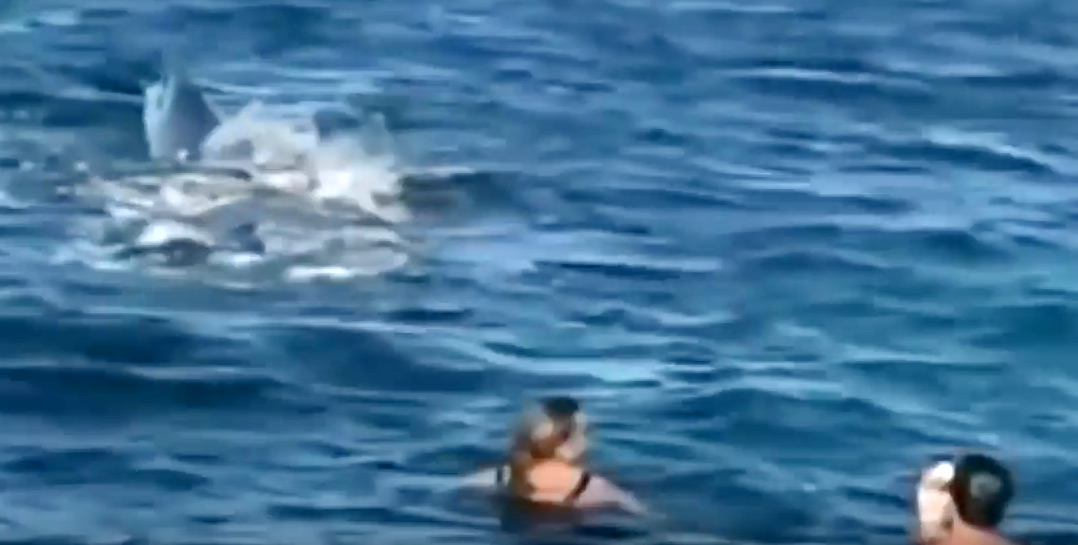 Image via: Youtube
Some people can only dream of swimming in the open ocean alongside wild whales. For two extremely lucky boaters who were out on the water, that dream became a reality. They now have one heck of a whale tale to tell after their extremely rare and awesome encounter with two of the massive mammals.
Brad Nicholls and his girlfriend Emmy-Rose Curtis had left dry land and gone out in search of sea turtles off the Gold Coast of Australia when they happened across a mother humpback whale and her baby calf. Not wanting to miss the opportunity, the adventurous couple seized the moment and quickly jumped into the water to swim around with the huge mammals.
The whales didn't seem to mind the human company and even hung around for about an hour or so. That's much longer than what they typically stay for, which is usually just a couple of minutes. Thankfully Nicholls and Curtis brought along plenty of film equipment since they also happened to be testing out some new camera gear suited specifically for underwater use. Curtis told the local news station, ABC 7, "we were just playing around underwater with the GoPros and all of a sudden there was something much larger than a turtle there. In ten years I have never seen this type of behavior for whales with a boat, let alone with us in the water." Both he and Curtis work for whale watching companies and so they're really familiar with whale behavior and comfortable being in the water with them.
The fact that they see the mammals day after day and never get a chance to be able to swim with them also makes their story all the more sweeter! They managed to snap a few selfies with the massive mammals as well as capture some video footage that you can check out below. For the most part, the whales stayed near the surface while the pair swam happily around. One of the cooler things that happened during their encounter was when they managed to communicate with the peaceful giants by slapping on the surface of the water and the whales slapped back with their fins.
What began as a routine boat ride for the couple turned into the swim of a lifetime- You have to see the footage to truly appreciate how magical it all was, enjoy!
Please Share This With Family and Friends

Click
Like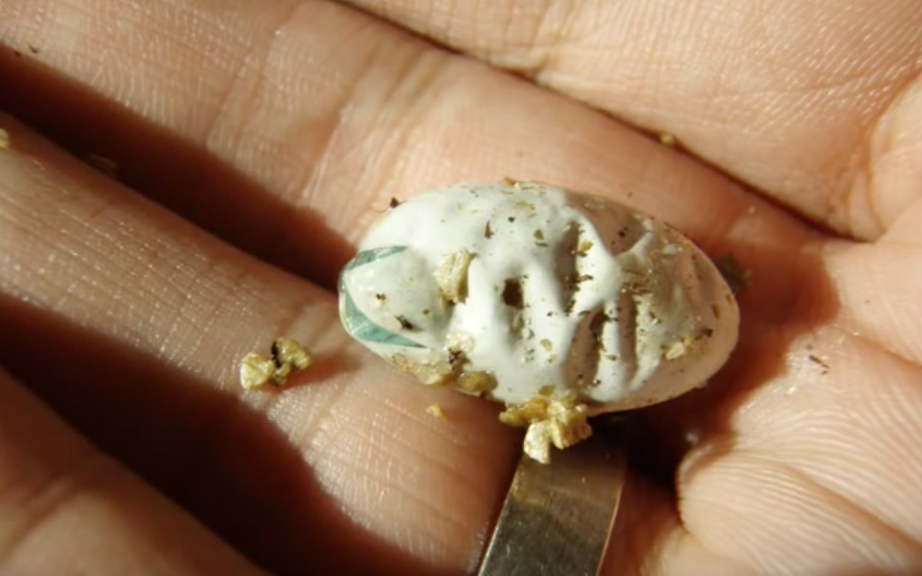 Image via: Youtube
What you are about to watch in the video below, is so special, that this moment in nature has to be viewed, to fully experience it's incredible impact.  In a man's large hand, you will see what looks like, a very large abnormally shaped lima bean.
As you watch, a miracle of life begins to unfold before your very eyes.  It is not a lima bean at all, which becomes apparent as a tiny green head begins to emerge from the shell.  What you are watching is the precious moment of the birth of a chameleon!
This footage is truly breathtaking, as you slowly watch each part of this creature hatch from the egg.  Some viewers have expressed concern that this man's holding the egg as the chameleon hatched, would inhibit it's immediate instinct and ability to climb and cling…not so!
Watch this little guy go into the wild to become an expert hunter with stereoscopic vision.
Please SHARE This With Family and Friends
Click
Like