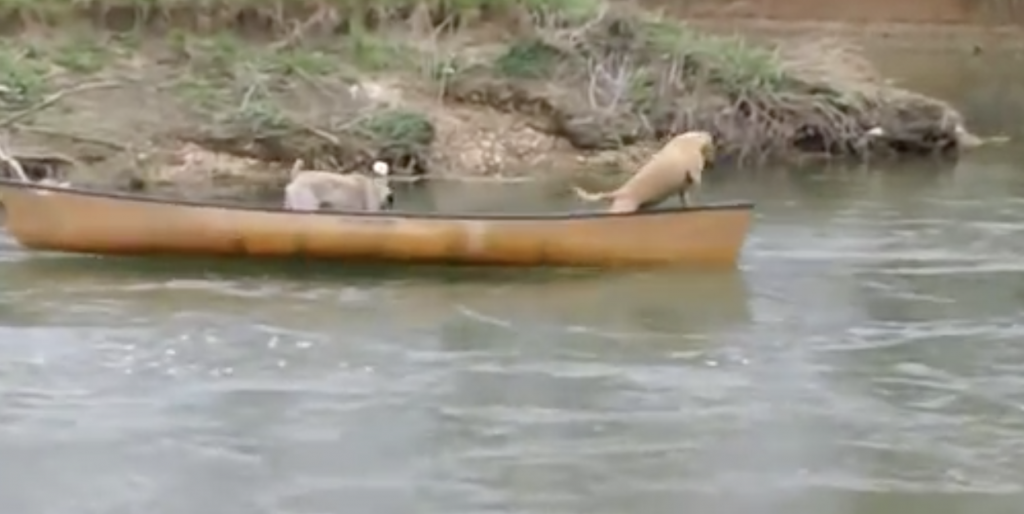 Heroes come in many different forms and sometimes they turn out to be dogs! It seems that our faithful companions never cease to amaze us with their immense hearts and spectacular abilities. The brave Labrador in this video is no exception to that belief and when his friends got into a bit of trouble he did not hesitate to step right up and jump into action.
The group of three dogs were outside enjoying a day by the river with their owner when disaster suddenly struck. Two of the pups had hopped into a lightweight canoe that had been beached loosely on a gravel bar in the stream when a strong breeze came up and knocked it into the water. The current quickly picked it up from there and in the blink of an eye the canoe was headed downriver with the two dogs stuck inside it.
The poor animals seemed unsure about what to do and every move they made threatened to overturn the tipsy canoe. They were stuck on the runaway boat barking and whimpering up a storm when the third dog sprang into action. The Labrador Retriever had been across the river with the owner on the opposite bank when he was alerted to the situation by their cries.
Without hesitating the black lab leaped into the water and made a bee-line for his friends. It's clear to see how powerful the current was flowing because the naturally strong swimming dog was working overtime just to get thought it. When he reached the side of the boat he took up a rope dangling over the side and towed his friends back to shore.
While it looks like a one-way rescue where the Lab in the water did all the work, it turns out that the dog in the front of the canoe played a major role in his own recovery effort as well. He dropped his leash over the side of the boat into the water so that the Labrador could grab onto it and pull them all back to safety and dry land.
It just goes to show what a clever, loyal, brave group of beautiful dogs they all are. Check it out and watch a real hero in action!
Please SHARE This With Family and Friends 🙂