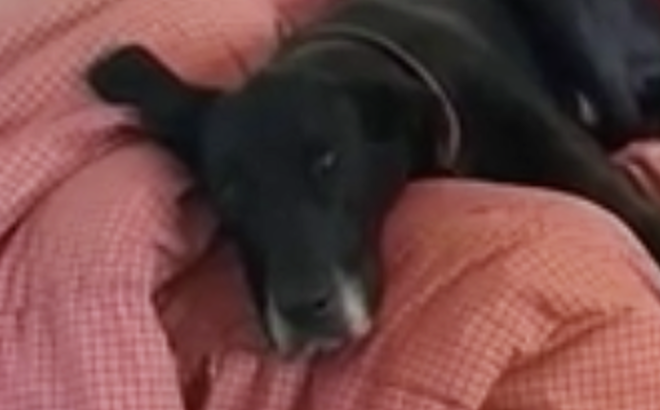 image via – facebook.com
Getting caught red handed can be a stressful experience, depending on what it is you were caught doing. We each respond differently when we get called out for doing something that we know is plain wrong. Some people deny they were doing anything bad, regardless of how obvious it may be.
Others stop whatever they were doing, own up to their guilt, and apologize for any wrongdoing. And some just try to disappear and avoid any and all conflict. That's what one guilty dog did when his owner awoke from a nap to find that her house had been trashed as she slept!
The big Great Dane named Seven had gone through the trash can and ended up spreading its contents all over the kitchen floor. Seven clearly knew he was in trouble when his owner started asking questions as he relaxed on the couch, his huge body spread out comfortably on a mess of blankets and pillows.
However, before she could finish her reprimand, he hurriedly got up off the couch and removed himself from the situation. With his head bowed low and tail tucked, he gingerly trotted over to a door. Then he ducked down and wedged himself headfirst through a tiny doggy door at the bottom of it and expertly shimmied his long, skinny body through it!
Seven disappeared in seconds and managed to escape outside in the most adorable and unexpected fashion. It's unbelievable that his huge body can fit through the tiny opening, which appears to be for a much smaller dog or even a cat.
He definitely has been through the little door before because he knew he'd make it and didn't stop or hesitate for one second. How could anyone be mad at him, or any dog, after seeing that.
It appears that the expression "out of sight, out of mind" is what Seven was going for, in the hopes that it would ring true and his owner would soon forget all about the trash fiasco! I still can't believe he fit through that doggy door…
Watch the hilarious video below and let us know what you think!
Please Share This Hilarious Guilty Dog With Family and Friends Who Need A Smile Today 🙂