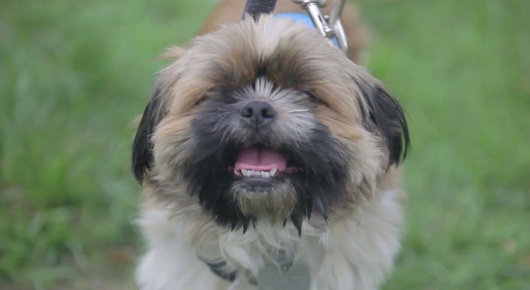 image via – youtube.com
If you want a good friend who loves and supports you unconditionally in everything you do, then look no further than your local animal shelter. There are countless animals of every breed, size, color, and temperament imaginable out there. They are just waiting to help someone who comes along in need of companionship and immeasurable joy.
Most people assume that when they adopt at a shelter they are saving an animal and helping them out. While this is partly true, the reverse of that thought is often a better way to describe the situation. Pets that we adopt are saving us, in more ways than one, and if you have a rescue animal at home you likely already know and understand why.
This was the idea behind a new adoption campaign at the Lost Dog's Home, a shelter for dogs located in Australia. They thought of a great way to get people and their homeless dogs together, by way of "The Human Walking Program."
The word was spread among office workers that at lunch and break times they would be able to spend time playing, walking, and hanging out with the dogs. It gave the workers a chance to get away from their desks for some fresh air and exercise, and the animals got much needed attention and exposure.
By the end of this adoption drive every single one of the over 5,000 adoptable dogs found a new home with an office worker. The program was an immense success and all of the rescued workers will now lead healthier lives because of it.
Being around dogs naturally makes humans more active. The animals love to play, take walks, chase things, and do all sorts of fun activities. Nothing is more relaxing and enjoyable than taking some time out of your busy day to hang out and spend some quality time bonding with your dog.
It's a proven fact that people who own pets are better off because of it. Not only do they help to fulfill our social needs, they also improve our overall happiness, physical health, and well-being. People report that they are just as close, and oftentimes even closer, to their pets than they are to most of their family members!
Please Share With Family and Friends