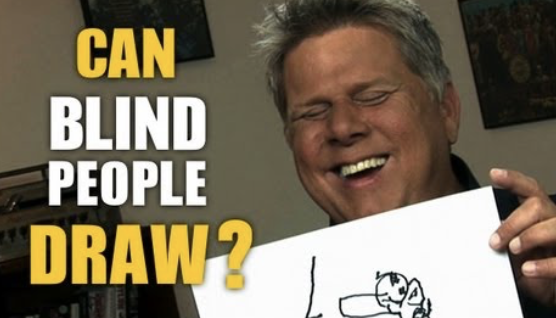 image via – youtube.com
Tommy Edison, a huge presence on YouTube where his average video gets more than 1 million views, is a film critic.  What attracts so many viewers to him is his lovely nature which is exemplified through his sense of humor, his chatty style and self-deprecating reflections.  But that's not all…he has been blind since birth!
Born with an undeveloped optic nerve, Edison can't literally "watch" films, but he indeed loves them. He brings an unbelievably unique point of view to his movie reviews, from a blind person's perspective.  He "views" films through an aid for blind people known as "audio description".
Edison is particularly discerning about how sound and music convey information. In the video below, this charming man shows us what it is to draw objects, that he only knows through his tactile experience  of them.  He talks about the difficulty of even conceptualizing something in 2D when you have never been able to see, and know everything through touch.
He is such a wonderful example for us all about how to live life to the fullest, within the constraints of our limitations.
Let us know what you think of this!
Please SHARE This With Your Family and Friends