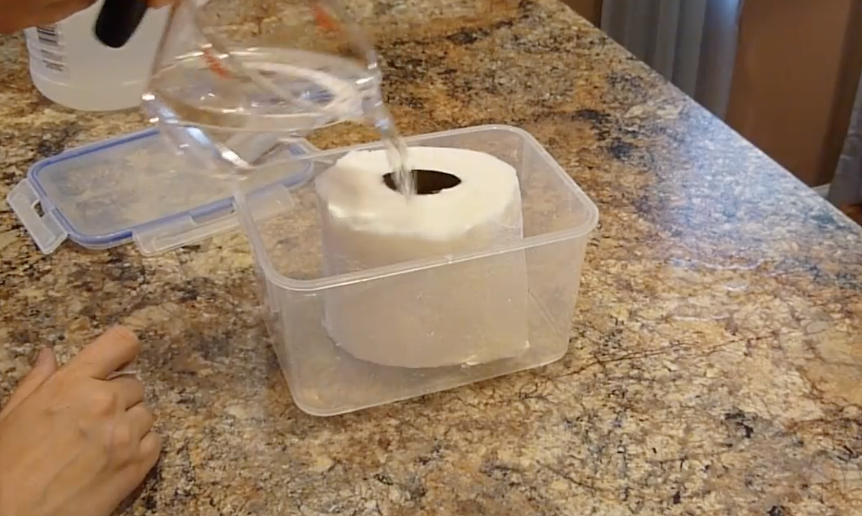 Keeping a clean kitchen can be a pain in the behind when you're in the middle of cooking. It's a necessary evil to have to wipe down and disinfect counter tops, cutting boards, and any other surfaces where you are prepping food. The last thing anyone wants is to get food poisoning or sick because of food coming into contact with germs and bacteria.
It's a hassle to wash your hands, grab a bottle, get a paper towel, spray surfaces and wipe them clean. That's why many people use convenient, quick, and easy Lysol disinfectant wipes. However, the problem with those is that they are expensive and contain lots of chemicals that you don't want to ingest. A better alternative, that is more cost effective, is to make your own pre-soaked paper towel wipes with a non-toxic solution.
This easy project requires strong, high quality, name brand paper towel rolls. If they are cheap they will likely dissolve and turn mushy. You also need a resealable plastic storage container with a lid, water, liquid dish soap, rubbing alcohol, and vinegar.
Grab a roll of paper towels and carefully cut them with a sharp knife so that they will be able to fit into the container and check to see that they actually do fit. Mix 12 ounces of water with ¼ cup of rubbing alcohol, and 4 drops of dish soap.
Stir it well and then pour it over the paper towels in several stages. This will allow the liquid to soak the towels more evenly. Finally, remove the cardboard center from the roll, which is easier to do when it's wet, and grab a wipe from the center of the roll.
The second homemade vinegar wipes covered in the video are for cleaning heavier used kitchen surfaces, specifically wood block cutting boards. This one can be made the same exact way as the ones covered above but with a different solution.
Instead, you want to mix together 1 cup of vinegar and 1 cup of water, then pour it over the paper towels. When you wipe down a surface the vinegar will kill any bacteria on it without leaving behind any harsh or toxic chemical residues. It's the perfect way to keep your kitchen clean and germ free!
These DIY cleaning products will save you at least 75% on wipes that you'd otherwise have to buy at the store, and they work just as well as Lysol or other name-brand products. Try it today and see how much of a difference they make when you have them on hand nearby. Please share this and help make your family and friends lives easier as well.
Please Share These Cleaning Hacks With Family and Friends 🙂