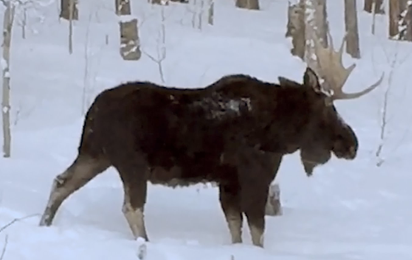 image via – youtube.com
The Eberhart family were at their cabin just outside of Laramie, Wyoming in November of 2015. Out of their window, in a picturesque snowy field, they witness the peaceful scene of a moose sauntering along.
They immediately start to film the beautiful animal, when it suddenly shakes his head, and they literally can not believe their eyes. In the video below you will see what the family witnessed. Kim Eberhart relayed the moment to "National Geographic", saying, that as the moose shook his head one of his antlers fell off!
You will hear the astonishment of the family in the background, as they keep the camera rolling. As they utter their worst fears for the animal, you will see the actual facts about moose pop up, alerting us that this usually painless occurrence is part of the male moose's mating season!
This short footage is mesmerizing; despite the fact that we find out that this shedding of the antlers is normal, actually catching the moment that it occurs is very rarely seen. I found that getting a glimpse into such an unexpected moment in the life of a moose, was an awesome thing to behold.
Have you ever seen anything like this? Let us know!
Please SHARE This With Family and Friends