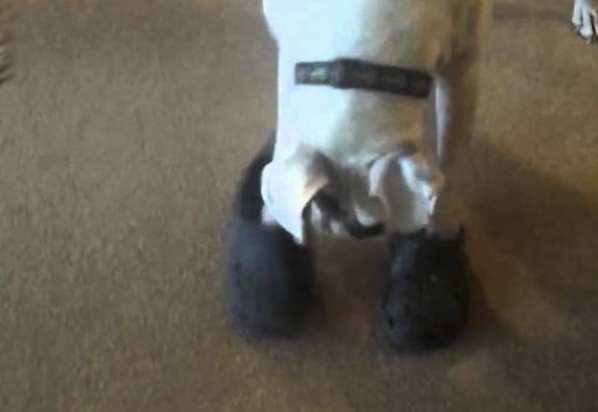 With so much happening in our world and in our lives each day that is painful, you sometimes just need a moment of lightness, silliness, a giggle… The dog in this video you are about to watch, is guaranteed to put a smile on your face.
We all love our dogs, regardless of the fact that they can be a mess, get into mischief and cause us to lose our patience.  Regardless, the love we feel and get from them is indescribable.  Some dogs need outerwear in the cold, and city dogs need footwear to protect their paws from salt on sidewalks.
Most dogs hate being put into clothing and footwear; it is just an unnatural state for them. But not Watson!  This adorable boxer has a thing for people shoes, and I don't mean chewing on them.
This hilarious footage, posted by his owner Enid Lemley, shows him walking in Crocs with a clunky stride that cracked me up!  Apparently this talent isn't limited to Crocs, he can do it with work boot too!
Please SHARE This With Family and Friends 🙂