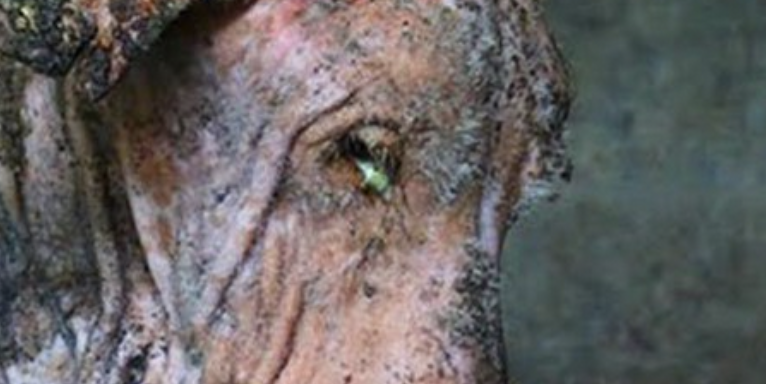 The figure in this image, is almost unrecognizable as a dog.  It is painful to look at, so one can only imagine what this starving dog felt like when he was found on the side of the road in Udaipur, India.  His rescuers were from Animal Aid Unlimited.
They do truly remarkable work in providing help for all kinds of mistreated and injured animals from its region. It's facilities are not only an animal rescue center, but function as a sanctuary and treatment operation, as well.
Jim and Erika Abrams, along with their daughter Claire initiated this operation with such dedication, that over 40,000 animals have already been saved.  Depending on the animal's situation and condition, some are treated and released, while others may live out the remainder of their lives at the center, if need be.
The incredible work they do is exemplified by the rescue of the starving dog rescued in this video.  He also suffered from mange, which is a skin disease in which all his fur was gone and he was literally being eaten away by parasitic mites.  Practically lifeless, his rescuers took him by net so he wouldn't run away in fright.
He was terrified, as human contact was now so foreign to him. As you watch the gentle care of the Animal Aid workers, you will see how over a relatively short period of time, this dog began to trust, heal and come back to life.  After two months of tender loving care (both medical and emotional) this sweet pooch made a complete recovery.
His transformation is unrecognizable; his spirit restored.  This is one of the most moving animal rescue stories I have ever seen.
Please SHARE This With Family and Friends