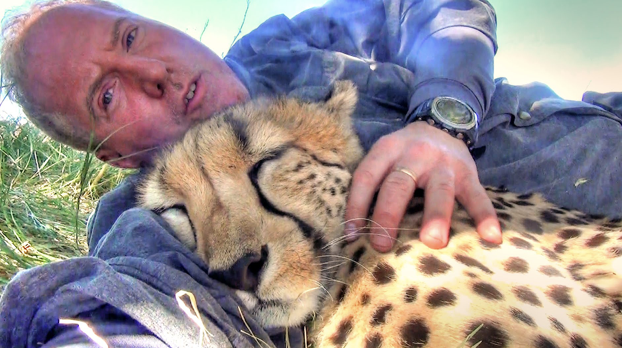 A volunteer at the Cheetah Experience in South Africa, Dolph C. Volker, put out this extraordinary video to illustrate the possibility of having an affectionate relationship between a human and a big cat.  He writes, "Many people see Cheetahs hunting, running, killing, resting, or raising their young in documentaries, TV, or zoos.
I wanted to show people the up-close and personal side of Cheetahs. I was pleasantly surprised how wonderful their personalities can be. Cheetahs are not considered a 'social' cat but they love, display affection, love attention (the tamed ones) and very interactive."
The footage you are about to view shows Volker with an adult Cheetah named Eden, who has taken an immediate liking to him, within a few days of meeting.  He said that he was able to "trust her completely", as Eden's comfort with him increased.
His take on her treatment of him was reflective of her experiencing him as another Cheetah.  This included the astounding behavior we get to view in this video which Volker narrates as it takes place in front of our eyes;  "grooming, nibbling, biting, pacifying, purring, laying on me, and sleeping… cuddling up close to me. I'm amazed how much more interactive and affectionate Cheetahs are compared to the average domesticated cat."
I have to say that although I found this video captivating, I had to question Volker's judgement in laying down with Eden; at any moment she could get carried away with her affection and bite him, without meaning to hurt him.
Volker talks about this, although he believes that by listening to her purring he was capable of gauging whether at any moment he could be in danger.
Please Share This Incredible Encounter With Family and Friends