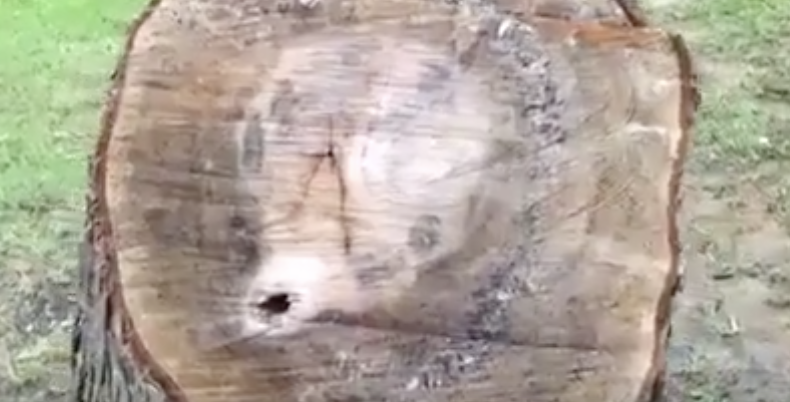 image via : facebook.com
It's always really sad when an old beautiful tree dies on my land and then needs to be cut down. After the tree is cut down and any dangerous areas that could potentially fall on someone are removed a left over stump sits there on the ground. Not only is it a reminder of the loss of the majestic tree but it can be pretty a big eye sore.
A married couple faced this exact scenario with an unsightly stump right smack in the front of their yard, after her husband chopped the old dead tree down. They were faced with a dilemma. To they bring somebody in to remove the left over stump or maybe come up with something imaginative in it's place
In the footage below, the man's wife decided to come up with one of the most creative, magical and charming idea for that eye-sore of a stump.  Knowing that her husband is great with his hand woodworking and cutting with a saw she knew her vision could be executed in just a short time.
She explained her idea to her husband who was surprisingly super excited to get started on the project.  In the video below she takes us through each step and all the materials (which she clarifies are all very cheap and affordable), and were bought at the local Lowe's hardware and the Dollar Store in their town, that went into this magical and whimsical creation.
Together the couple transformed an unsightly stump into a creative, beautiful and inviting 'Tree Stump House For Gnomes'. It really adds such a nice pleasant piece of wooden art that gives their front yard some amazing character.  All their family and friends want one to and love coming over to check out the magical little Gnome house.  It gives them pleasure each day and has been enjoyed by friends and neighbors alike.
Please SHARE This With Family and Friends