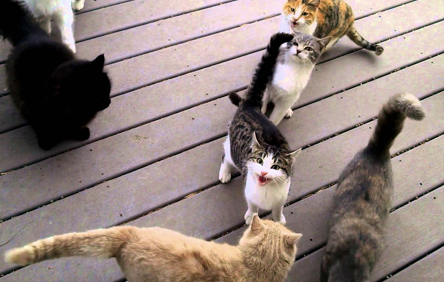 image via – youtube.com
The guy in the footage you are about to watch, opened his back porch door one day and saw a stray cat. Feeling sorry for the kitty he gave it some food. If you are an animal lover, or just are kind, you can understand the action he took. I guess nobody warned him about how cats work! But he will soon find out!
The cat, having been fed, showed up more frequently whereupon the man showed the same kindness. So the kitty caught on pretty quickly, and then told one of his friends about the situation. One day the man opened his porch door and found two cats awaiting his kindness.
Some time passed and word got around. In this season of giving it would certainly sound mean and heartless to warn someone about feeding a stray animal. The video you are about to watch, will fast forward you to the upshot of this man's act of kindness. I'm not quite sure what the life lesson is to be concluded.
Tell us what you think after watching this hilarious footage.
Please SHARE This Hilarious Video With Family and Friends 🙂