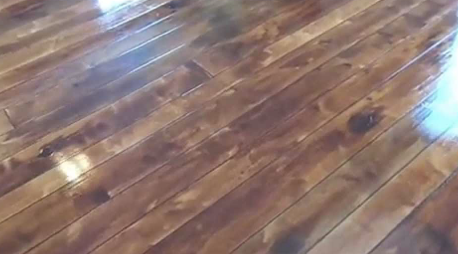 Home designs are often quite expensive no matter what you do and there is no easy way to save money. Whether you are remodeling or building from scratch, projects can add up fast. When it comes to houses and interior designs it's never a good idea to sacrifice quality and integrity for a lower, cheaper cost.
One particular area that can be very expensive is flooring. It's something you absolutely have to have, and the options vary greatly, along with the costs. Many people prefer hardwood floors over all the other types.
Wood floors are beautiful and come in many different styles, colors, finishes, and grains. The same goes for fake wood floors like Pergo, but the downside is the higher cost that comes with purchasing, installing, and maintaining them. A much cheaper alternative is concrete flooring, which sounds dull and blehh.
However, there is a way to instantly upgrade a classic concrete floor into faux bois, which is French for fake wood. Sounds fancy, right? With a few extra steps you can take your ugly duckling concrete floor and transform it into a rich, warmly textured, glowing hardwood-esque surface.
The design is called wood concrete and this video shows all the main stages of such a floor being installed from start to finish. The video description says that the process isn't hard to do, so long as you have the right products and techniques. It's an excellent way to get more bang for your buck when it comes to interior design and the end results look remarkable.
This is a wonderful technique that seems ideal for basements, play rooms, mud rooms, and so on. In comparison to hardwood, concrete stands up much better to water, animals, kids, and all the scratching and wear and tear that comes with them. Plus, it's way less expensive!
At first glance it looks like a normal wood floor to the average untrained eye, and only upon closer inspection do you realize it's not. Check out the video to see what I mean.
Let us know what you think!
Please Share This With Family and Friends