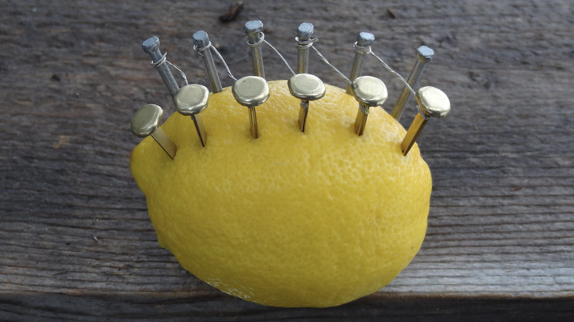 image via – youtube.com
There is something about fire that grabs our attention and imagination. Humans have been transfixed by dancing orange and blue flames ever since the dawn of time and nothing quite rivals the awesomeness of the strange and wonderful things that people have conjured up involving fire.
Whether it's fire breathing or walking, there's lots of neat and amazing tricks you can do with fire and some are survival oriented hacks that people turn to in times of need. The latest one that has been spreading across the internet like fire involves using a lemon to make just that, a fire!
Whether you want to impress your friends, need a science project idea, or just like doing cool MacGyver type of stuff, this video is for you. It was uploaded to YouTube by the NorthSurvival channel, which is full of all sorts of interesting and innovative survival tips and information so be sure to check it out.
To successfully pull this particular trick off you'll need a few other items in addition to a lemon. Gather together 6 copper clips, 6 zinc nails, some insulated wire, and steel wool. Copper and zinc coins will work too, but the clips and nails work best because you want to stick them securely into the lemon.
Start by working the lemon in between your palms so that it softens up. Take the copper clips and stick them into the lemon in a single file row all down one side, spacing them apart by about a centimeter. Now take the zinc nails and push them into the lemon on the same side so that they're parallel to the copper clips.
Grab a little piece of wire and connect it from the first copper clip to the second zinc nail. Do this again by connecting another piece of wire from the second copper clip to the third zinc nail and so on, until you reach the end of the line. This is what creates a reaction between the two metals that ends up producing electricity.
The next step is to connect a piece of insulated wire to each end where the nail and clip have no wire on them yet. The copper clip will be the (+) positive end and the zinc nail will be the (–) negative. The wired up lemon should produce around 5 volts of electricity and at this point you're ready to harness that power to start a fire!
Take the steel wool and place some dry tinder atop it, toilette paper was used in the video and works well. Now take the two wire ends from the lemon and touch them to the steel wool. This short circuits it which causes the wool to heat up enough to spark a fire. Once you get a flame going add more tinder and build up the fire with other materials to keep it going.
It goes without saying that you should always be careful around open flames and/or electricity, and while the saying "don't play with fire" is good advice, this trick can easily be done safely if you exercise appropriate caution and supervise the flame at all times. So the next time life hands you lemons, stick in some metal and wire them up to create a unique battery-type of fire starter.
Enjoy this awesome project!
Please Share This With Family and Friends