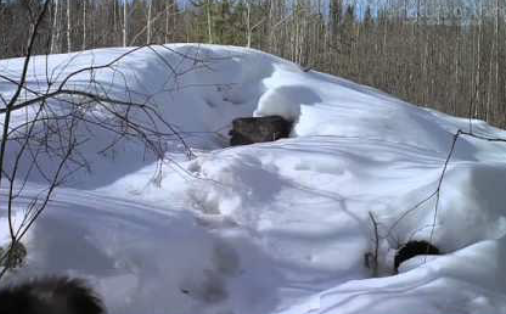 image via – facebook.com
What looks like some type of cross between a bear, a dog, a skunk, a raccoon, and a weasel? Here's one hint, it's an animal that only a few lucky souls have ever managed to see out in the wild. Here is another hint, it's also the name of a fictional character in the X-Men comic series. Give up yet? The answer is a wolverine!
Wolverines are one of the hardest to find and photograph animals on Earth. They live in some of the most inhospitable places, and in the most remote regions, all across the northernmost portions of our planet. The scrappy animals look more like bears than their fellow weasel family members thanks to their short stocky build, heavy fur coat, and huge paws with razor sharp claws.
Wolverines are hard to track down and locate in part because they're extremely solitary animals who like to roam. Since they occupy territories that can be anywhere from 50 to over 350 square miles, that's a huge area of territory to hide and search through.
In addition, they're also nocturnal and are most active at night when they go out hunting and it's super cold and dark outside. Adding to their rarity is the fact that they are built for their habitat and can move with precision speed across snowy, mountainous terrain.
Anyone even attempting to keep up with one wouldn't stand a chance, no matter how much specialized gear or in shape they may be. Wolverines have earned their reputation for being ghost-like and ultra evasive. They're virtually impossible to observe unless one is trapped, which is what makes this footage so rare and unique.
It was captured by Andrew Manske, a wildlife filmmaker who has spent his life's work recording amazing footage of some of the world's hardest to find animals. It took him five long years to finally catch a wild wolverine and her kits on film, a moment which he describes as "the highlight of my career as a wildlife filmmaker." Check out the clip here and see how a wild wolverine acts and moves through the snow.
Manske filmed the female and her babies when he was working on a documentary for Canada's CBC called Wolverine: Ghost of the Northern Forest. He even managed to capture the family active in broad daylight, which is highly unusual.
He attributed that fact to the likely possibility that a nearby predator was lurking somewhere in the area, and so the mother moved dens to keep her babies safe and sound to the best of her abilities.
Whatever her reasons may have been, it's certainly a beautiful sight to see a devoted mother taking care of her young babies in the wild, where they belong as mother nature intended.
Please Share This Story With Family and Friends