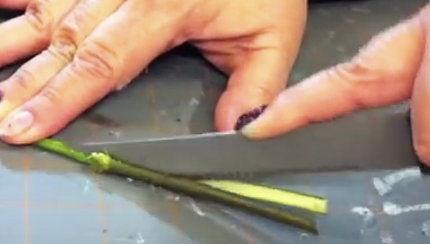 I've seen tie-dyed roses many times, but had no idea I could make them myself.  The video you are about to watch below, was made by Kathy the CRAFTY CHICA who always wanted these roses herself, and made it her business to put together an easy and fun-to-follow tutorial on how to create this kaleidoscope effect.
With just some white roses, a packet of dyes, scissors, a knife and some clear plastic cups, you will see how easy this is to do. Each plastic cup will have a different color dye in it.  Kathy shows you how to prepare the roses for optimal absorption of the different colors.
The angle and length that you cut the stems is critical to obtaining the most vibrant outcome.  Additionally you will get to see how the color gets established from hour to hour over a 24 hour period.  The great thing about creating these really cool color gradients, is that you have control over the hues you want to establish.
This is just such a great DIY to create for your own pleasure, to bring to a party, or to do for different holiday adornments.  This will be totally perfect for Mother's Day this year!  Have fun watching this and let us know if you will try creating your own.
Please SHARE this with family and friends 🙂