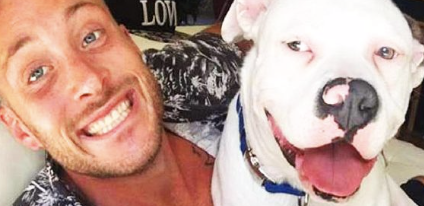 image via – youtube.com
There is nothing more beautiful than the bond between a dog and their human. Many people admit that they are closer to their dogs and prefer to spend time with them over other humans. If you have ever had a dog or been around one you can understand why. They are the most loyal, loving and faithful companions anyone could ever ask for. Whether it's a big dog that you can take hikes with all across the world or a small dog that is your devoted companion that you bring everywhere, there is a breed for every person and personality type out there. Today's story is a bit of a strange and surprising one…
A man named Dan Tillery and his girlfriend Megan decided that they were going to take their relationship to the next level and get a dog together. Anybody who has ever been in a relationship knows that once you get a dog or cat together, this is a huge step in a relationship which brings you one step closer to marriage and children. This couple after thinking it all the way through decided that it was time to get a dog together so they could test out their parenting skills. The couple had just bought their first house together in Michigan, they had a lot of space and some land and figured a dog would be the perfect addition to the new house. Before they got the house they were in a pretty cramped apartment and although they wanted a pup they knew it was too small and wouldn't be fair to the canine.
They decided to go to the Detroit Dog Rescue center and find the perfect dog to adopt and give a furever home! At the rescue center they looked at tons of dogs but one in particular stood out from the rest. This canine was an American Bulldog whose name was Sir Wiggleton! The moment they laid eyes on him they knew it was fate and this was their dream dog that would be perfect for their new home and family.
This dog had so much character and charisma and he always had this funny look on his face like he was smiling at something hilarious in the room. Dan quickly noticed that this happy and smiley pup was super photogenic. Almost every pic they took together became an instant classic. He began posting some of the pics to social media expecting to get tons of likes and happy responses letting him know how adorable his new buddy was. One photo in particular really launched off as the internet couldn't get enough of the adorable pup and his new dad.
Little did he know these uploaded photo would bring a black cloud of contraversery he never could've imagined. First, he posted the photo on his personal accounts and thenthe Detroit Dog Rescue reposted the picture and in the caption said stated that after 100 days this amazing dog was finally adopted and they were sure this pic would "break the internet". Soon after it was uploaded the pic went mega viral racking up over 100,000 like and was being shared all over the world. Dan was elated that he and his new best bud had become overnight internet sensations.
But the celebrations quickly came to a halt when a couple days later the police showed up at his house. He had no idea why they were there or what he did but this definitely wasn't a prank and these cops were super serious. There had been a law put in place in Waterford the town he lived in, that banned owning pit bulls because of the perceived danger they could inflict on neighbors and neighbors pets. Even though Dan showed the cops the paper work from the rescue center stating that the dog was an American bulldog and not a Pitbull the cops just weren't convinced.
They told him if he didn't return the pup back to the shelter he could get a 500 dollar fine and actually be sent to jail for violating the town laws. Dan was completely devastated and people all around the world were lending their support. A battle between the law and the couple and animal activists from all sectors of the globe was exploding. Heated debates, anger and confusion were dominating the conversation. Inevitably the final verdict would be decided by a judge in their district court!
Watch the video below to find out what ended up happening to the pup and his new family:
Please SHARE This With Family and Friends