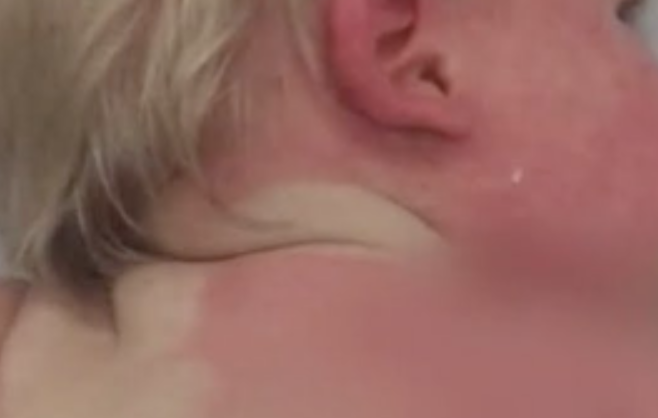 Summer officially starts on June 20th but much of the country has already experienced extremely high temperatures, especially in the Southwest region which is currently in the midst of a heat wave. Cities all across America will soon all be under the heat of a long summer,
When the thermostat is soaring people turn to all sorts of different things to beat the heat. They stay indoors and out of the sun, crank the air conditioning, drink lots and stay hydrated, and play in the water. Nothing cools you down faster like jumping in a pool can and floating around in the refreshing water is just about the most relaxing thing you can do on a super-hot day.
Residents in and around Phoenix, Arizona, aka the hottest city in America, know the simple joys a dip in the pool can bring. About a week ago Dominique Woodger, a mother who lives in San Tan Valley, Arizona, decided to set up a small kiddie pool for her 9 month old baby boy.
It was extremely hot outside and she thought her son would enjoy a nice cooling dip. She took him outside with her, grabbed the garden hose, and started to fill the pool up when she heard her son crying.
She told the local news station KNXV that at first "I thought he was crying because he was mad. He hates when he gets sprayed in the face." However, after checking on her baby to see what was the matter she was shocked to find that his tiny body was covered with red, blistering skin. Realizing the seriousness of the situation she rushed him to the hospital where she later found out he'd suffered second-degree burns on over 30% of his body.
The water from the garden hose that Dominique accidentally sprayed on her son was what caused his burns. When a hose sits in the sun and the temperature is 115 degrees outside, close to what it was on the day Woodger's son was injured, the water inside of it can reach temperatures as high as 150 degrees.
According to Phoenix Fire Department Captain Larry Subveri, it takes only about 10 seconds of exposure to waters at that temperature for a person to develop second-degree burns, and for a young infant, even less time.
Woodger is speaking out about what happened to her son in order to warn others about the hidden risk and to urge parents to be extra careful when turning the water on outside in the heat. Water trapped inside the hose can easily become super-heated and most people don't stop to think about this, or even realize it, before it's too late.
Test the water temperature first before letting any young children near it, and please pass this warning along to help spread the word. Stay safe!
Please SHARE This Story With Family and Friends