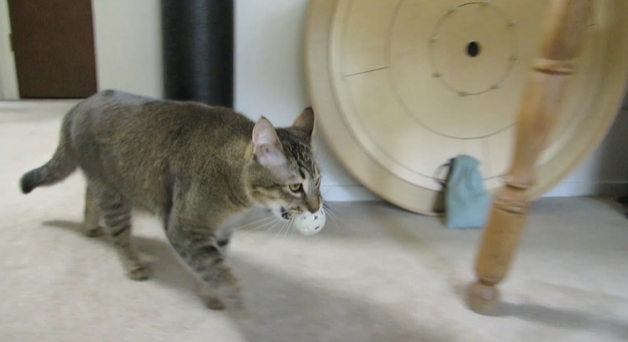 We humans are told that in order to increase the power of our brains, we need to solve puzzles, think "out of the box" and engage in novel activities.  People who have an intrinsic desire to learn, experience the rewards of satiating that desire.
Cats too, are clearly intelligent animals, who benefit from such activities.  The pet parents of the cat in this video have set up a task that needs to be completed in order for this feline to receive his extrinsic reward… his meal.
Watching this cat exhibit his problem solving ability is truly amazing.  It's as if you can practically hear him thinking out his next move, exemplifying truly intuitive instincts leading him to be methodically resourceful in every move he makes to find each part of the puzzle that will lead to the reward of his dinner.
Watching his clever moves is truly astounding.  Not only are his pet parents providing him dinner, but an opportunity to use his brain that could very easily prolong a healthier longer life.
By providing him opportunities to use his brain in novel ways, this cat will experience a more content and interesting existence.  Watch and enjoy this feline intelligence and please share your thoughts about this amazing animal!
Please Share This With Family and Friends