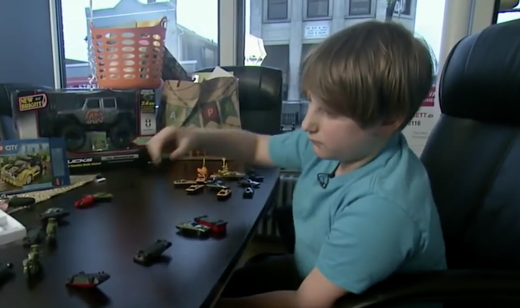 image via – youtube.com
Some of my happiest memories are of my birthday parties during early childhood.  The parties were great, but the anticipation of having all my friends come, planning the party games, blowing out the candles on the beautiful cake and of course the excitement of opening presents!
Gerald Hamilton, a sweet 9-year-old boy was anticipating his birthday party on April 2nd, with the same kind of excitement.  He had invited all 30 of his classmates, and 12 had responded that they could come.  The party was called for 3:00…and none of his guests arrived.  At 4:00, still no one!
By 5:00 Laura Hamilton, Gerald's dejected mom, suggested they cut the cake.  Gerald, still holding onto hope said, "But one of my friends might come"…but no one did.  Laura called  the parents of the kids who had RSVP'd they were coming, to find out why their child didn't show up, and was told over and over, that the children did not like Gerald!
I am heartbroken just reporting this story, so you can imagine Gerald's and his family's sadness.  On the video you are about to watch below, you will see this sweet boy talk about his sadness, and what his greatest advocate, his grandma, did about it.
After the kid's parents were actually so insensitive and heartless, to tell Laura that their children didn't want to come to the party because Gerald is too different for them to play with him, his Grandma took to social media.  You see, Gerald is a bit slower than his peers, as he has had to undergo several skull expansion surgeries.
Grandma Amelia Lara reported, with tears in her eyes to Channel 2 News, that she just felt she had to do something to help her heartbroken grandson.  With hurt and determination she took to social media, and posted the following on Facebook: "How sad; he is 9, he just wants to have friends.
So no one came, no cards, no presents. So, it is my mission to have as many cards as I can mailed to my little guy. You can send them to me and I'll make sure he gets them … this breaks my heart."
The response from around the world, as far away as Vietnam and England, was overwhelming kindness and generosity. Gifts and cards came from everywhere, wishing this sweet boy Happy Birthday, love and best wishes.  This outpouring of caring brought comfort and a big smile to Gerald's face, whom you will see reading his cards which meant so much to him.
No child should ever have to suffer the isolation of rejection of having no friends, due to a handicap.  Clearly the sadness of Gerald's situation can and should be remediated for the future.  But the kindness of strangers took the sting out of what happened to him on his 9th birthday.
If you want to send Gerald a small gift, or just a card or letter so that he knows that people care, you too can help lift  his spirits via the mailing address below: Gerald Hamilton c/o Amelia Lara 238 Main Street Hobart, IN 46342.
Watch the video below
Please SHARE This Story With Family and Friends