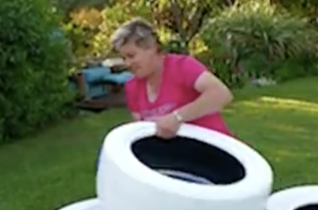 image via – youtube.com
AHHHH…the joys of a great DIY for something unique for gardening lovers, is brought to life with great enthusiasm in the video you are about to view below. Tanya Visser, a spirited and fun-loving South African "Guru of the Garden", has come up with a brilliant idea. It's a great thing to do with your kids, or simply to tap into your "inner child", to create for your yard or garden this summer.
Tanya's project uses a few old tires to create large garden planters. Her self-deprecating humor makes this idea all the more inviting…you don't have to be a Martha Stewart to have this turn out pleasing to the eye for the whole season!
In the video, Visser takes you step-by-step in this easy to follow tutorial. She uses PVA primer as a base coat for the tires, which is great for you and your kids, because it washes out of clothes easily. She shows you how to place the tires, and how to prepare them for planting once all the decorating is done.
A plastic outdoor garbage bag, other color paints for drawing fun images, some drainage pebbles, good potting soil and bone meal, are the remaining things you will need. Watching the fun she has decorating with bright colors and choosing hearty plants to complete the project, has inspired me!
Have fun watching and HAPPY PLANTING!
Please SHARE This Awesome Gardening Idea With Family and Friends 🙂