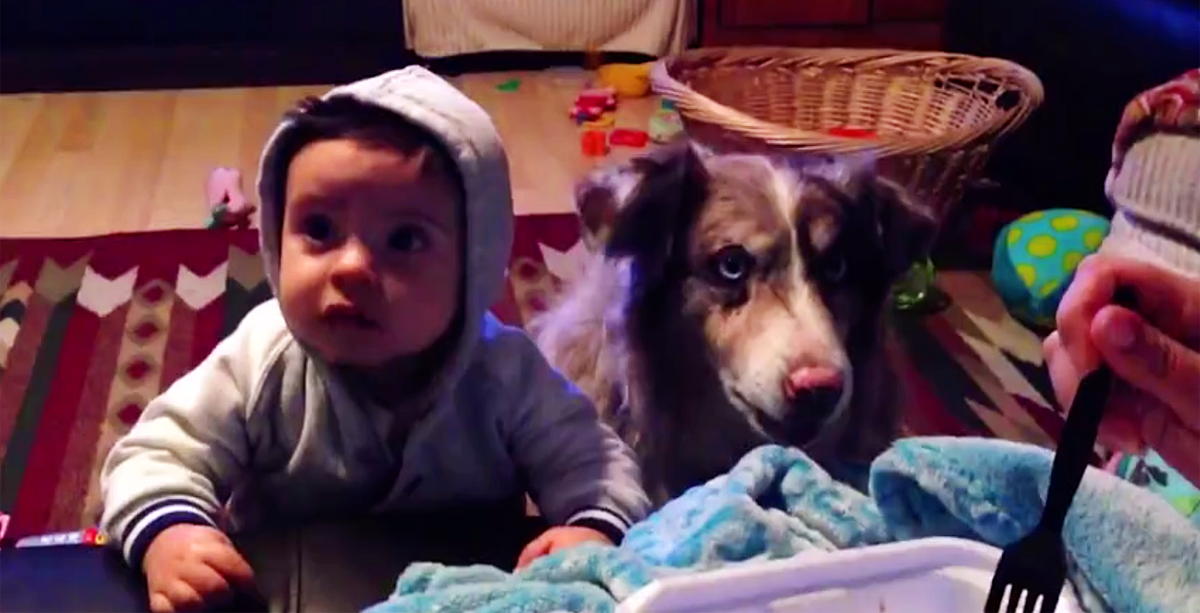 image via – rumble.com
Parents of newborns always look forward to the day when they finally hear their little baby say 'mama' or 'dada' for the very first time. Those simple words are just so special to hear and mark a momentous occasion in a babies life and development.
Even though you can never know when a child will say their first words, that fact has never stopped a parent from trying to get their baby to say something. That's exactly what was going on here in this sweet short clip. Andrea Diaz-Giovanini was gently trying to teach her toddler son Sam how to say "mama" while offering him a tasty little bribe. As she holds up a forkful of food she repeats the magic words to her baby boy, who is standing right in front of her alongside Patches, the family dog.
While Sam seems somewhat oblivious to the yummy food being waved around in the air, Patches has honed in on it with laser focus. The Australian Shepherd's attention is completely focused firmly on the fork as he whimpers and whines for a bite. In terms of encouraging her son to say anything, it's not going so well for Andrea, but Patches is a whole other story. The clever dog is giving it his best shot and doesn't give up so easily. After what sounds like several attempts to say the word "mama" he eventually works out the sound and ends up actually speaking the word successfully. This is something you really have to watch and see him do, it's awesome and hilarious how much he sounds like a person!
In the end, the dog managed to do what the youngster couldn't and so he definitely earned a bite to eat as a reward for his hard work. While Sam's parents set out to capture and preserve his first words on videotape for posterity, they ended up capturing a moment that was just as cute and special instead; their dog's first human words!
Oh and one last thing. Many viewers commented on the video and noted how Patches never got a bite to eat. They expressed so much concern over this that the Diaz-Giovanini's posted a second follow up clip to the one seen here. That video was longer and showed that the dog did really get a tasty treat so check Patches talents out and enjoy!
Please SHARE This With Family and Friends 🙂